Published: February 4, 2014 1:40:47 am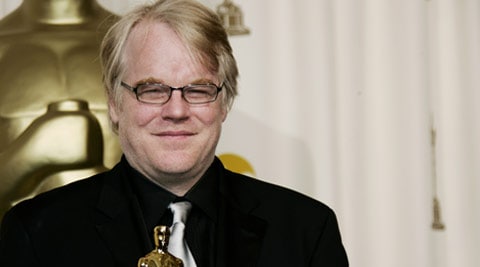 By Bruce Weber
Philip Seymour Hoffman, perhaps the most ambitious and widely admired American actor of his generation, who gave three-dimensional nuance to a wide range of sidekicks, villains and leading men on screen and embraced some of the theatre's most burdensome roles on Broadway, died on Sunday at an apartment in Greenwich Village he was renting as an office. He was 46. The death, from an apparent drug overdose, was confirmed by the police. Investigators found a syringe in his arm and, nearby, an envelope containing what appeared to be heroin. Hoffman was long known to struggle with addiction.
A stocky, often sleepy-looking man with blond, generally uncombed hair who favoured the rumpled clothes more associated with an out-of-work actor than a star, Hoffman did not cut the traditional figure of a leading man, though he was more than capable of leading roles. In his final appearance on Broadway, in 2012, he put his Everyman mien to work in portraying perhaps the American theatre's most celebrated protagonist — Willy Loman, Arthur Miller's title character in Death of a Salesman.
In supporting roles, he was nominated three times for Academy Awards — as a priest under suspicion of sexual predation in Doubt (2008); as a CIA agent especially eloquent in high dudgeon in Charlie Wilson's War (2007); and as a charismatic cult leader in The Master (2012). But he won in the best actor category for Capote (2005). As the eccentrically sociable, brilliantly probing and unflappably gay author of In Cold Blood, Hoffman flawlessly affected the real-life Truman Capote's distinctly nasal, high-pitched voice and the naturally fey drama of his presence. Writing in The Times, A.O. Scott described the film as being about a writer's relationship with his work. "This makes for better drama than you might expect," Scott wrote. "Capote's human connections are, for the most part, secondary and instrumental, which makes Philip Seymour Hoffman's performance all the more remarkable, since he must connect with the audience without piercing the membrane of his character's narcissism.
"Not only does Hoffman achieve an impressive physical and vocal transformation — mimicking Capote's chirpy drawl and appearing to shrink to his elfin stature — but he also conveys, with clarity and subtlety, the complexities of Capote's temperament."
Hoffman appeared in more than 50 films in a career that spanned less than 25 years; in the early 1990s he had small roles in Leap of Faith, which starred Steve Martin as a faith healer, and Scent of a Woman, in which he played a prep school classmate of Chris O'Donnell, the weekend escort of a blind former military officer on a New York City jaunt, played by Al Pacino, who won an Oscar for the role. He appeared in big-budget Hollywood films — including Mission: Impossible III (2006), Moneyball (2011) and The Hunger Games: Catching Fire (2013) — and critically praised independent films, including The Savages (2007), in which he and Laura Linney, as his sister, struggle to care for their declining father; Synecdoche, New York (2008), Charlie Kaufman's offbeat drama in which he played a moody theatre director wrangling with his work and women; and A Late Quartet, about a violinist in the midst of dual crises, familial and musical.
But citing the highlights of Hoffman's prolific work life — which included directing and acting in Off Broadway shows for the Labyrinth Theatre Company, a New York City troupe, which he served for a time as artistic director — undervalues his versatility and his willingness, rare in a celebrity actor, to explore the depths of not just creepy or villainous characters, but pathetically unattractive ones. He was a chameleon of especially vivid colours in roles that called for him to be unappealing.
On Sunday afternoon outside the building where Hoffman died, more than 100 people had gathered to mourn. "He's a local — he's a fixture in this neighbourhood," said Christian McCulloch, who said he lived nearby. "You see him with his kids in the coffee shops. He is so sweet. It's desperately sad."
The New York Times
For all the latest Opinion News, download Indian Express App