Written by
Nandagopal Rajan
| New Delhi |
Published: December 26, 2013 3:41:21 am
It was supposed to be a year in which a lot was supposed to change. A lot did change,but not always in the way it was predicted to. For instance,Windows 8 did not become the runaway success it was expected to be and so the devices that we were banking on this new operating system did not exactly fly off the shelf. In smartphones,Android consolidated its position,but even then the new Apple iPhone 5S got away to another flying start and Windows Phones started developing as a viable third option for millions of people. The phablet started establishing itself as the most popular form factor among smartphones. Size played a crucial factor in tablets too as most manufacturers started focussing on the seven and eight inch segments,with larger sizes slowly becoming a niche segment. Here is our pick of the best devices in the three most popular device categories.
Top 5 laptops
LENOVO THINKPAD TWIST
Picking the best laptop of 2013 was a tough ask as there were many devices which could claim this throne. Finally,it was the Lenovo's new ThinkPad Twist that took away the honours as it was the first ultrabook convertible that did the transitions without making it look like a gimmick. Its screen can turn 180 degrees,bend and fold back to become a tablet with four—laptop,stand,tent and tablet modes—like the Lenovo's much acclaimed IdeaPad Yoga. It looks at all options a user might need and hence packs a track-point along with the touchscreen,as well as an unconventional touchpad with a scrolling button as well. The 13-inch device has a military grade 20 mm magnesium hybrid body weighing just 1.6 kg. Despite its slim fit,the device manages superb processing power and is one of the fastest Intel Core i5 devices around.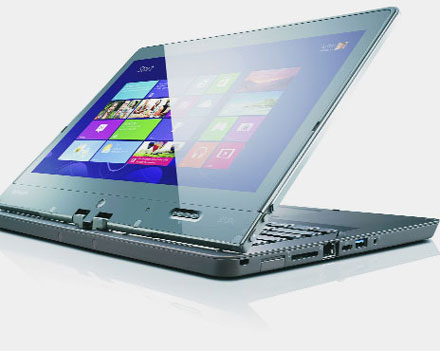 Price: Rs 71,000+
MACBOOK PRO 15
It is almost like a no-brainer to put a MacBook in a list of top laptops. However,this time the MacBook Pro 15-inch is at number two primarily because the Rupee fluctuations have once again made it terribly expensive. But when it comes to raw power,there is no comparison to the combination that gives you a 2.0 GHz quad-core Intel Core i7 processor with the latest Intel Iris Pro graphics on a retina display screen. Plus,there is the new operating system X Mavericks and bunch of free productivity software that makes this a compelling buy even at its upwardly mobile price tag. The only better option for creative professionals is the high end version of the same device.
Price: Rs 1,49,900+
DELL INSPIRON 14
Launched towards the fag end of the year,this stylish laptop is almost like a reference design for the ultrabook concept. It has a full aluminum body with diamond-cut edges and uniform thickness of 15.3 mm all through the body. It might be a bit heavy,but still managed to feel light and sleek due to the superb unibody design. The Inspiron 14 is also very powerful with a fourth-generation Intel Core i5 processor,though the 1366 x 768p screen is a bit of a put off despite the response touch panel. We give this one the top billing as it is a great device which is not priced beyond the Rs 1,00,000 mark. However,it is still quite expensive for the average user.
Price: Rs 71,990
SONY VAIO PRO 13
If this top five was picked just on style and design then this one would have won the race hands down. Weighing just over a kilo and a maximum thickness of 17.2 mm,this 13.3-inch ultrabook is almost like a blade. It also has a stunning Full HD touch display with Sony's patented Triluminous technology that makes feel like a small size 4K television. The sound quality is good too,so it the backlit keyboard. This Windows 8 device is also powered by an Intel Core i5 processor and also comes with a high-end Core i7 version. It lost out to the ThinkPad Twist and the Dell Inspiron due to a stubborn trackpad and higher base price.
Price: Rs 74,990
ACER C720 CHROMEBOOK
Chromebooks have been around for a while,but it is only this year that they have made their India debut. And what a debut,given that these sleek little computers will be the most affordable options for a lot of first time Indian computer users. The Chromebook,as the name suggests,is powered by the Chrome browser and does not have an operating system as such. So almost everything happens online. Still it is a great device for consumption of knowledge and creation too,though you cannot do hard core computing on it. But at this price point,we wouldn't care about that.
Price: Rs 22,999
Top 5 tablets
iPAD AIR
Apple started the entire segment that we calls tablets with the iPad. Five years on,the iPad still reigns supreme in this space. Its latest,the iPad Air is a super thin,super light tablet with a traditional 9.7-inch screen with retina display. With the best app store in the world and its collection of the exclusive productivity apps,there is no doubt that the iPad continues to be the best tablet around. The new iPad Air runs iOS 7 on a 64-bit desktop-class Apple A7 chip,which means it won't be long before you see a full enterprise functionality on the devices. Plus,the battery life is now much better than before.
Price: Rs 35,900+
iPAD MINI
If the iPad Air is the best tablet in town,then the iPad Mini is definitely the second best. That is because it is pretty much the same thing,though in a smaller package. And,this year,the Mini has become better with the addition of Retina display to its
7.9-inch screen. In fact,we would suggest this iPad to everyone who doesn't actually need a larger screen and will be carrying their tablet around everywhere. The only place where this tablet
lacks now is the lack of calling,which some Android devices in this size have added. But we can live with that.
Price: Rs 28,900+
GOOGLE NEXUS 7
The best Android smartphone in our books has been made by Google,which gave us the world's most popular smartphone operating system. And we think it also has the best Android tablet in town. The Google Nexus,built by Asus,packs the best specs in town for a tablet that does not have an Apple logo in the rear. The latest version is thinner and lighter as well as more powerful. It also has one of the best screens in town,though it is not Full HD. Plus,there is the added advantage that its Android 4.3 OS is at least a few months ahead of the competition,which anyway cannot match with the pure vanilla OS of the Nexus.
Price: Rs 20,999+
SONY XPERIA TABLET Z
For Sony the innovation in tablets had not been in adding gimmicky software,but in making a full-size tablet that is water and dustproof. The Xperia Z,almost a giant-size version of its popular smartphone with the same name,can be taken to the shower if you want. This super slim tablet—is the slimmest in the world—has a great Full HD screen and is super powerful with a quad core processor. It is also very expensive,more than most iPads.
Price: Rs 44,990
DELL LATITUDE 10
Windows 8 tablets haven't really arrived in a big way. The best among the lot is this one from Dell as it has been made with an enterprise audience in mind and does most of the stuff with a professional touch. It has a military grade build quality and its Intel Atom Z2760 processor is among the most powerful around. It also has over 12 hours of battery life. The fact that it packs accessories like docks,makes it the best bet if you want to invest in a mobile Windows 8 device.
Price: Rs 42,490
Best smartphones of 2013
APPLE iPHONE 5S
It may not have a large screen that has become all the rage this year,but it is twice as powerful as almost all phones in the market today. The revolutionary fingerprint scanner puts it miles ahead of almost all phones. Then it also has a great app ecosystem and Apple's great after sales support to back it up. The new iOS 7 runs as smoothly as any operating system ever will and the added battery life and superb screen make it our top pick of the year.
Price: Rs 53,500+
LG GOOGLE NEXUS 5
If you want a fast,bloat-free Android smartphone,get the Nexus 5. This amazingly stylish smartphone has a slim form factor that most of its rivals will envy. But it still manages to pack in a punch with better specs than other flagship phones,that too at a very affordable price tag. It ships with the latest Android OS 4.4 KitKat which will take some time to reach other smartphones. Don't buy this phone if you are looking for gimmicks.
Price: Rs 29,990+
NOKIA LUMIA 1020
The mythical Lumia phone with Nokia's revolutionary PureView camera technology finally became a reality in 2013. And the wait was truly worth it. Lumia 1020's 41-MP camera can capture stunning,DSLR-grade pictures and videos. The Windows Phone app ecosystem has improved quite a bit and now come with apps that let you make full use of the processing power of this device.
Price: Rs 46,999
SAMSUNG GALAXY NOTE 3
The Note 3 may not fit in one hand,but it is the best bet for those who seek great all-round performance,be it sketching,watching movies or gaming. It is also turning out to be a great business phone for those who don't want a BlackBerry thanks to extra large battery which easily lasts over 24 hours. The stylus makes it the ideal device for artists,as well as anyone with an inclination for the arts. Note 3 users also swear by its camera,which Samsung never really bothered to publicise much.
Price: Rs 44,900
HTC ONE
It has been around 10 months since the HTC One's launch but it still remains one of the best smartphones around. Its build quality is right up there with iPhone 5S. It has a great display and speakers that make it a great buy for video addicts and music afficianados. It also packs a punch with a quad-core Snapdragon processor and has one of the best cameras in town.
Price: Rs 42,000
For all the latest News Archive News, download Indian Express App