Written by Express News Service | New Delhi |
Published: April 12, 2013 11:29:35 am
The Supreme Court on Friday dismissed death row convict and Khalistani terrorist Devinderpal Singh Bhullar's plea for commutation of his death sentence,a ruling that can have an impact on 17 other convicts,including those held guilty in the Rajiv Gandhi assassination,facing execution.
Delivering the operative portion of the judgement in a packed room,a Bench of justices G S Singhvi and S J Mukhopadhaya said that the petitioners for Bhullar failed to make out a case for commutation of sentence.
"The petitioner has failed to make out a case for commutation of death sentence to life imprisonment on grounds of delay," said the Supreme Court.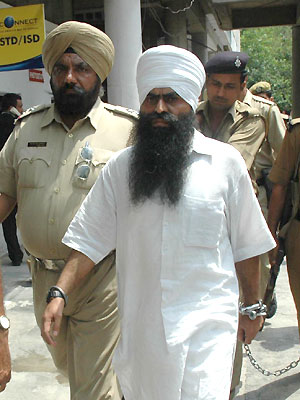 The verdict is now likely to have a bearing on several others pleas,including those of convicts in the Rajiv Gandhi assasination case and four aides of sandalwood smuggler Veerappan,and also the eight convicts whose mercy pleas had been rejected last week,since most of these had been on the death row for years together,awaiting decisions of their mercy petitions.
48-year-old Bhullar's Canada-based wife,Navneet Kaur,who was present in the court,expressed disappointment over the verdict. The government can still intervene to save her husband's life,she said in her reaction to the judgement.
She said Bhullar has been suffering from mental illness and has been under treatment for it.
Bhullar was awarded death penalty for triggering a bomb blast in September,1993,here killing nine people.
The Supreme Court had on March 26,2002,dismissed Bhullar's appeal against the death sentence awarded by trial court and endorsed by the Delhi High Court.
He had filed a review petition which was also dismissed on December 17,2002. Bhullar had then moved a curative petition,which too had been rejected by the apex court on March 12,2003. Bhullar,meanwhile,had filed a mercy petition before the President on January 14,2003. The President,after a lapse of over eight years,dismissed his mercy plea on May 25 last year.
For all the latest News Archive News, download Indian Express App