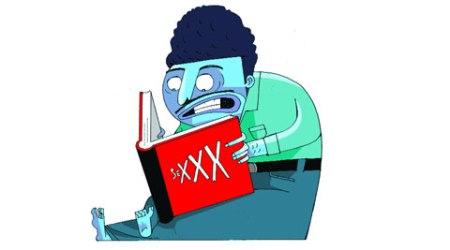 In 2003, when Aniruddha Bahal won the Literary Review's Bad Sex in Fiction award for an unforgettable vehicular romp in his novel Bunker 13, he was sporting enough to embrace the recognition he'd received. Bahal had beaten several other writers, some of them quite known, to clinch the award for this: "She picks up a Bugatti's momentum. You want her more at a Volkswagen's steady trot. Squeeze the maximum mileage out of your gallon of gas. But she's eating up the road with all cylinders blazing. You lift her out. You want to try different kinds of fusion." Bahal uniquely combined the two things a lot of men devote most of their time to: sex and cars.
Sex is a tricky thing to master in the bedroom. It is tougher still in fiction, to craft a moment between characters who will engage in a certain kind of intimacy; the universality of the act transcends all the cultural and linguistic trappings of the narrative. As a genre, erotica has existed for ages in all literature and one only needs to look at classical texts and vernacular literature to get a taste of how exquisite the genre can be. "The best Indian writing on sex I've read seem to be mostly classical texts. The poems — Subhashitavali (Sanksrit), Gathasaptasati (Prakrit), Akananuru (Tamil) — are wonderful whether they are explicit or allusive. The last canto of Kalidasa's Kumarasambhavam is gorgeous. Another example is Shamsur Rahman Faruqi's The Mirror of Beauty. The heroine Wazir Khanam's marriage night with Mirza Fakhru is titled 'Lust circles the silvery one's body like a tiger'," says R Sivapriya, executive editor, Penguin Random House.
In the Indian-English segment, erotica is yet to come into its own. Currently, Sita's Curse by Sreemoyee Piu Kundu is being marketed as "feminist erotica" and Ananth's debut novel Play With Me is an Indian man's sexual journey. Critically-acclaimed books such as A Pleasant Kind of Heavy and Other Erotic Stories by Aranyani and Slither by Urmila Deshpande are few and far between.
When it comes to sex in the Indian-English mass market, one name has stood the test of time — Shobhaa De. After making her debut with Socialite Evenings in 1989, De dominated the mass-market fiction sales for the next decade. Known for her realistic portrayal of sexual relations in post-liberalised India, De argues that a writer cannot set out to "construct" a good sex scene. "It only works if sex is a natural part of the narrative. Otherwise, it is like a pathetic 'patch', superimposed for commercial reasons. Or worse, a greedy publisher's aggressive 'request'," she says, adding that only a writer who is comfortable with his or her sexuality can write convincingly about sex. "The rest fake orgasms without ever having had one," says De.
Writing about sex in a "natural" fashion is like walking a tightrope and hoping not to fall on either side of the pornographic or the banal. A sex scene is a delicate situation, one has to guide the reader into imagining a moment of tenderness or torrid passion; writers are required to arm themselves with a competent vocabulary before plunging in. "The staples should be done away with. 'Passionately' is too diluted and overused a word to have its original impact," says Poulomi Chatterjee, editor, Hachette India. What about "throb"? And that gem, "heaving bosom"? "We should ban the use of 'she ran her tongue', 'swelling bulge', 'feminine curves', 'brooding eyes', 'tumescent tool', 'writhe' — if only to make it more challenging," says Chatterjee.
Art writer and editor Rosalyn D'Mello, 30, is finishing her debut novel, A Handbook for My Lover. Written in the epistolary form, it is about the relationship between a young woman and a much older man. "The key to writing sex in a way that elevates the narrative requires sensitivity to language and sensuality, and also to larger questions of existence. Sex can sometimes offer transcendence, it can sometimes be bad, or boring, or godawful, or hilarious," she says. D'Mello has edited a few anthologies on Indian erotica and would like the writing to honestly reflect the mood without making too much about the actual act of copulation.
Tell that to Manil Suri. The Maryland-based mathematician and writer, became the second Indian after Bahal in 2013 to win the Bad Sex gong with a heady cocktail of all things scientific in City of Devi: "The hut vanishes, and with it the sea and the sands — only Karun's body, locked with mine, remains. We streak like superheroes past suns and solar systems, we dive through shoals of quarks and atomic nuclei. In celebration of our breakthrough fourth star, statisticians the world over rejoice."
For all the latest Lifestyle News, download Indian Express App