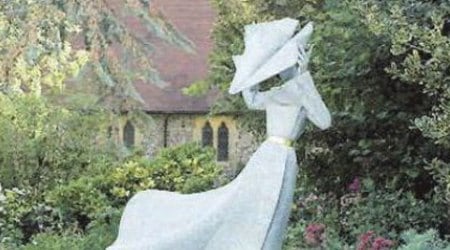 By the end of January next year, if you happen to be in the vicinity of the Houses of Parliament in London, a familiar face will look down at you. He will have a traditional khadi shawl wrapped across his chest, a dhoti, a pair of sandals and a walking stick. This bronze statue of Mahatma Gandhi is set to be the latest addition to the Parliament Square.
British figurative sculptor Philip Jackson has the task cut out for him. In less than six months, Jackson has to design the look and create a larger-than-life bronze sculpture of the global icon of peace and non-violence. "It is a short time frame but I am up for the challenge," says Jackson, "I know of Gandhi and the cause he stood for. But for this project, I will have to research on him. It is just like writing a book and I will have to look at all aspects of his life." Jackson, in his 50s, was awarded the Commander of the Royal Victorian Order in the Queen's Birthday Honours List in 2009 and has several international sculptures to his name.
He is known for designing a statue of the Queen Mother in 2009 and creating the look of the RAF Bomber Command Memorial in Green Park, London, in June 2012.
The latest project, the Gandhi statue, was announced by former British Foreign Secretary William Hague during last week's talks with India's Minister of External Affairs Sushma Swaraj. Gandhi will be sharing space with 10 other public figures and former Heads of State in the coveted greens outside Parliament, which include Nelson Mandela, Sir Winston Churchill, Abraham Lincoln and former British PM David Lloyd George. An advisory panel headed by UK's Culture Secretary Sajid Javid will be looking into this project.
At the moment, Jackson is busy trawling through photographs of Gandhi from his visit to London in 1931, when the leader arrived for the second Round Table Conference. "There are images of him standing outside 10 Downing Street but I would not want to copy a photograph as it were. The statue will be a reasonably recognisable portrait of the man. Since it will be in the public domain, it needs to be in a certain way," says Jackson, over the phone from his studio in Sussex.
Jackson has seen the Richard Attenborough movie Gandhi (1982) as part of his research, is talking to people who knew Gandhi and grabbing hold of other video footage of the leader. The statue will stand nine feet-high and will be set on a stone plith, he says. Though the design of the statue and the final position in the park, is yet to be finalised, Jackson needs to prepare a maquette (small scale model) of the sculpture before he makes a clay model in his studio, which will be cast in bronze. Meanwhile, he is also completing a memorial structure for the Korean War to be erected in Embankment, London.
Jackson's portfolio of projects range from exhibiting in art galleries to completing public assignments such as these. "I enjoy doing both. When you put a sculpture in the public domain, you are marking a person's contribution in history and so the audience is reminded of that person differently. At a gallery, people are looking at a sculpture for pleasing qualities," says Jackson, whose style of sculptures relies heavily on the body language of subjects, which accentuate the drama in
the sculpture.
"The Gandhi sculpture will be funded by charitable donations and sponsors. Further details about the cost will be announced in due course," says a spokesperson from the Department for Culture, Media and Sport. The statue will be erected on January 30, 2015, to mark 100 years of Gandhi's return to India from South Africa.
For all the latest Lifestyle News, download Indian Express App