Written by
Parmita Uniyal
| New Delhi |
Updated: September 17, 2014 10:35:55 am
The memories of childhood stay with us, and so do the memories of our neighbourhood aunties. While some of them refuse to grow up (did you hear – don't call me aunty?), others think they are the most matured people on planet. Here's discussing 5 straight-from-hell aunties and 5 dream aunties.
THE IRRITATING AUNTIES
1) Maid for trouble: You've a get-together/party/puja at home and desperately want the maid to turn up on time at least on that day. You know where she is and request the pados wali (neighbourhood) auntie to send her urgently. All you hear is a cold – "abhi kaam kar rahi hai." (she is working right now). Try explaining her the situation and there comes a loud thud of the receiver. That's I-will-cling-to-my-maid aunty for you.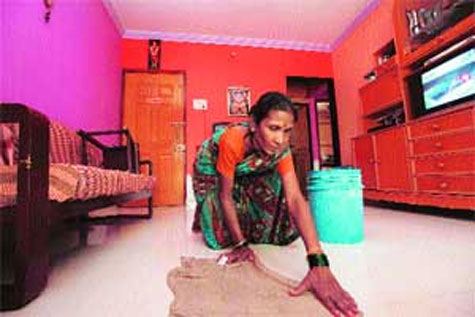 2) I'm the expert: 'Your pakodas are not crisp enough, add some more besan'. 'Your clothes don't match, I have an interesting suggestion'. 'I know the art of making perfect puris…' Sounds familiar? That's your know-it-all aunty.
3) Life is so bad: 'My bahu doesn't even know how to make round rotis', 'Nobody cares for me, they are all busy in their life', 'Your uncle doesn't listen to me anymore'. Think, you have guessed it by now. That's cribbing-is-my-life aunty.
4) You don't know, but you're unhappy: You are taking a walk at your apartment when she appears from nowhere and starts looking intently at your face.
Aunty: "Beta, you look tensed. Life is so hectic these days. But don't worry, take this book from me and perform this puja every Monday/Tuesday/Wednesday. God will take care of you."
You: But, I'm absolutely fine, aunty (forcing a big smile)
Aunty: Don't fool me, I've seen the world enough.
You: ??????
5) Always throwing fit: The edge of the bedsheet that you have hanged in the balcony for drying touches the aunty's window. Before you realise what CRIME you've done, the aunty comes running up to your home shouting – 'ye chaadar hata lo yahan se. Batao kitni kharab lag rahi hai latakti hui'. If this is not enough, she also has problems with the 'loud' music, barking dogs, wailing kids and yes even a 'tadka'. That's fit-throwing aunty for you.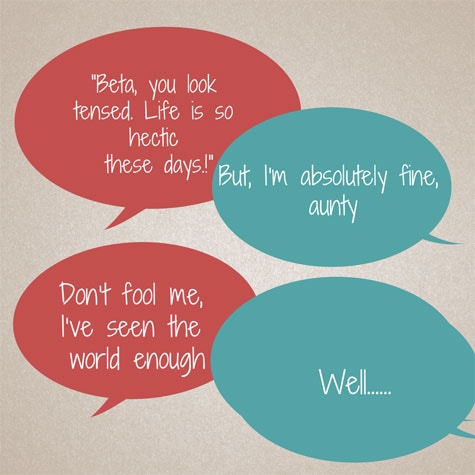 And then, there are aunties who are too good to be born in this planet.
THE DREAM AUNTIES
1) The cook: She loves to cook food, and serve her neighbours. She loves sharing recipes even more. And must say, we love visiting her more often than we should. Recipe aunty is our all-time favourite.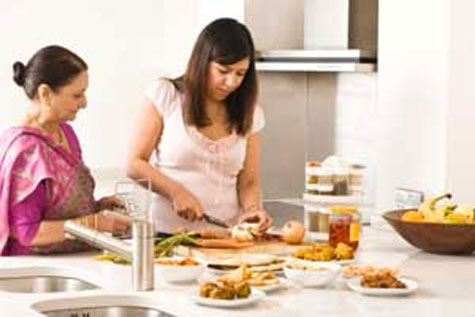 2) The babysitter: She babysits your kid when you are away. In some cases, takes care of kids as young as 6 months old. One of my friends can't thank her neighbourhood auntie enough for taking care of her 18 months old toddler, while she is away at work.
3) Ever-helpful and smiling: You ask for a few leaves of kadipatta, and she hands over enough for a month's use. Be it sugar, milk, Maggi or LPG cylinder, she's the one who rescues you out of any sticky situation.
4) Gossip-wali aunty: She is among those who knows all the news/gossip/information doing rounds in your locality. Everyone loves the gossip aunties!
5) Your beauty angel: An aunty running a beauty parlour in your locality is a blessing when you have just one-hour left for a wedding after a hectic day. You can bank on her for discounts as well!
Culture Machine's Being Indian recently launched a video on '10 Annoying Things That Indian Aunties Say'. Check it out:
For all the latest Lifestyle News, download Indian Express App