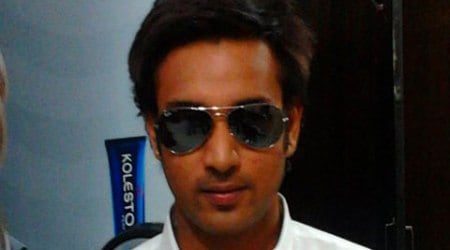 Nayab Shah is not a barber; he is someone who can change people's personality by styling their hair. He laments people are not spending enough time to improve their looks; a simple haircut can work wonders for them.
'I am what I am because of Jawed Habib'
"A haircut at Jawed Habib's salon at Delhi made me consider joining this profession seven years ago. His salon was different; with machines, various hair-colour bottles and the amazing collection of books on different hairstyles introduced me to a profession I had never considered doing before," says Shah.
'My family didn't object'
My family did not complain when I told them that I wanted to become a hair-stylist, this was largely because Jawed happens to be my uncle. They understood the fact that this job, if done properly, could spell fortunes for me. I joined Jawed's Academy at Delhi as soon as I completed my schooling. The institute was instrumental in providing me with opportunities to grow in the profession. I went Kathmandu in December 2005 after six months of training to work as an apprentice under Jawed.
'I styled Priyanka, Kangana in Fashion'
I slowly climbed up the ladder in the organization, promoted from the post of North India Head. My experience in the field was appreciated and I became a faculty at Jawed's institute in Mumbai in 2007, where I trained other aspirants and worked at the same time. Opportunities in the field were aplenty, breaks in the film industry were the highlight of the time I spent in Mumbai. I was part of the styling team that worked in the 2008 film Fashion, working with the actors Kangana Ranaut and Priyanka Chopra. My experiences in Mumbai told me that it was time I started my own business, which is when I shifted to Delhi and set up my own salon.
'How I styled my personality before shaping others' personality'
I was very nervous when I opened my salon; there were so many risks involved. The most crucial one was to establish my own brand in the market and earn the faith of my customers. The initial days in the business were hard and I had to often encourage myself to not give up hope. It is important to treat your customer in the best manner possible, that determines whether you will succeed or not. More and more people started visiting my salon, which was a result of me doing my job properly. One thing that I learnt on the job was that people expect a stylist, whether he/she is a hair stylist or make up artist etc, to be stylish themselves. I had to improve my language skills and learn etiquettes, which helped me get comfortable with my clients, many of whom demanded high standards. My hard work and determination paid off, I have many regular customers who can vouch for my excellent sense in hair-styling. My confidence has increased manifold today and I am planning to open a second salon in Delhi in the next two to three months. In all, the time and money I had spent in learning this profession have given me much higher monetary returns, which is one reason that people should seriously consider becoming a hair stylist.
'Pardon me, I'm not a barber'
People consider a hair-stylist to be the same as a barber, which is not the case. A hairdresser's work ranges from cutting his clients' hair stylishly according to their face type, colouring, giving it styles like straightening and curling, inventing new hairstyles, treating damaged hair, and providing the customer with the look they desire and so much more. The fact that people should realize is that a barber who sticks to just cutting hair has no chance of earning more, hair-stylists on the other hand have endless possibilities depending on their capabilities. The exciting thing about this profession is that there's nothing constant about it. You meet different people everyday, clients who present a challenge everytime I style their hair, colleagues who keep me informed about developments in the industry. Every day is unique, but not all days are exciting. It's not all work and no play though, an established hair stylist can always look forward to work on his/her own terms, increase earnings by becoming exclusive and partying harder than anybody else! Not a life you expect a barber to be living. It is satisfying when my clients say that a hairstyle I gave them reflects who they really are.
For all the latest Lifestyle News, download Indian Express App