"What we become depends on what our fathers teach us at odd moments, when they aren't trying to teach us."

From helping a child take the first step to watching them grow old enough to fit into their shoes, fathers play a big role in making their children what they become. For a child, one's father is the biggest source of inspiration, but what does it really feel like to become a father? Someone once said… "Being a father is a surprise every day!"
ALSO READ | Happy Father's Day 2017: Treat your daddy to delicious spreads across Delhi, Mumbai, Bengaluru and Chennai
A lot of our favourite celebrities have turned fathers in the last couple of years, with some of them breaking out of the social norms to become single fathers through surrogacy. Spilling the beans on the "special feeling" that changes their world, these five cool dads of Bollywood shared their thoughts on fatherhood in some of their previous interviews. Read on as Shahid Kapoor, Saif Ali Khan, Karan Johar, Tusshar Kapoor and Riteish Deshmukh express their thoughts on fatherhood.
SHAHID KAPOOR
One of the few dads to have taken a paternity leave, the 36-year-old actor took a five-month break to spend quality time with his family. From spending time with his wife Mira Rajput Kapoor during her pregnancy to being possessive about his little bundle of joy Misha — Kapoor has often expressed his delight to be a daddy.
In an episode of Vogue BFFs, the Rangoon actor confessed that he doesn't want to be hyper about Misha the way his dad Pankaj was with him. Revealing what he doesn't want to do as a dad, he said, "My father is a bit hyper and he's a bit over-protective. So, those are the two things that I hope I don't do to my child."
"With a baby, I wake up every three hours. I change diapers and most of my T-shirts have Misha's vomit and milk stains on them", he said, adding, "Misha gives me a lot of strength. Life is all about her now. I feel like I am ready to protect and even fight for her. I want to be my best for Misha. I never want to leave home once I return to my wife and baby."
SAIF ALI KHAN
Khan is a proud daddy of three kids. While his older two kids — Sara and Ibrahim — are with his former wife Amrita Singh, he recently became a dad to Taimur — his first child with Kareena Kapoor Khan. Sara is so much closer to my age, while Ibrahim is a young teenager. So, now, 14 years later, it feels nice to have a kid," he told HT in an interview.
"To have a child now completes us. Children also bring some discipline and control into your life. So, yes, there will be late nights, but they will be more controlled (smiles). So, I am looking forward to that (fatherhood). For me, life is all about a creative job, friends and hopefully family. These are important things in every possible way," he added.
"It would be fantastic to tell them Indian stories, such as the Ramayana, the Mahabharata; the Greek stories of Hector, The Odyssey, and Achilles, as well as teach them about poetry and art. It will be nice to have a kid who knows all that. I'm looking forward to it. But there's no pressure if he says, 'Dad, I don't want to know all this stuff', and I'm sure he will say that (laughs)."
KARAN JOHAR
The filmmaker became a single father to twins — a boy and a girl — through surrogacy. He named them — Roohi and Yash, after his parents, Yash and Hiroo. Thanking the surrogate, the actor said "she will always be in his prayers" and also revealed his work and other commitments will take a backseat.
"I feel enormously blessed to be a parent to these pieces of my heart who were welcomed into this world with the help of the marvels of medical science. I have prepared myself mentally, physically, emotionally and logistically to ensure that my children get all the unconditional love, care and attention from me and mine. I have submitted to the fact that my children are my world and priority.  My work, travels and social commitments would have to take a back seat and I am prepared for that," he said in a statement.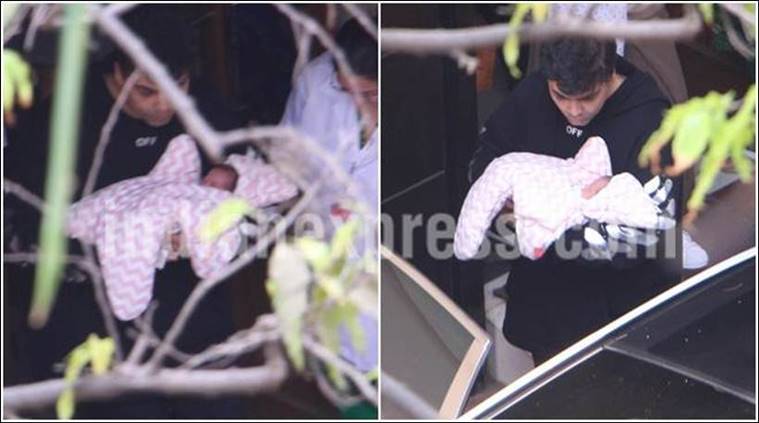 "I don't know what I'm going to do about it but I feel like I would like to be a parent. I don't know how it's going to happen but I do feel the need because I have plenty of love to offer and I'd like to take it forward. This feeling needs a release and requires a platform. And that platform could be by being a parent," he had written.
TUSSHAR KAPOOR
The 40-year-old actor took the brave step to become a single father of a boy through surrogacy. The delighted daddy said, "I am thrilled beyond words to have Laksshya, now the greatest source of joy in my life." He has often confessed that he wanted to have a baby before marriage and shattered the societal pressures to do so.
"Days couldn't have been more meaningful and focused in real time. Life has finally found its purpose; a reason to be happy about, a reason to work hard for and, in clichéd terms, someone your own to go back home to. I guess, that's what true, unimaginable love is all about. It makes you feel so sorted. What did I do to deserve this? I think I did something right and at the right time. And what do I have to say? Just that, I love you my son, Happy Father's Day," he told HT in an interview.
"Since the time I decided to become a single parent, especially the last one year of actually being one, have felt the fastest ever. They say it feels like time goes by faster as you grow older. I can confidently say that in the past two years I finally grew up. After years of struggling, like everyone else does, on that rocky road called adulthood, I didn't know that growing up would be so beautiful. I guess, that's what the last two years have been," he added.
RITEISH DESHMUKH
The actor is a doting daddy of two sons — Riaan and Rahyl. He turned a father again last year on June 1. Fatherhood makes you more grounded, Deshmukh said, adding, "You become a family man once you are married, but once you are a parent, you understand the gravity of it. I think it's a wonderful feeling. The best thing that can happen to any individual."
"After having a child, I can only feel compassion towards parents who travel with babies on flights because it's not how much trouble it is for anyone, but the baby once it's crying. Genelia helps me in being a responsible father. I do everything that any father would do for their children, like fetch them from playschool or change their diapers," he told DNA.
Revealing the "parenting tool" he learned from his father, he said, "To give him space and to teach him to respect. I think that's the core of any person. If you learn to respect, everything else will follow because that is the basic root of how you develop as a human being, as a person. You have to understand the value of respect. You can't expect to be respected without respecting someone. So, I hope that I am able to instill that core value."
For all the latest Lifestyle News, download Indian Express App