Are you fasting for Navratris? Well, in terms of fasting, we do mean following the many rules and regulations when it comes to preparing your meals for these nine days. Though, there is a huge list of alternatives when it comes to preparing Navratri-friendly dishes, it can get tiresome to have healthy, simple fare day after day, while many of your friends (especially if they're Bengalis celebrating Durga Puja) are out dining.
Well, worry not. We got hold of Chef Rajesh Singh, Chef de Cuisine, Varq, at The Taj Mahal Hotel, New Delhi, who's given three Navratri-special recipes to add that sizzle to your menu this week.
Get cooking!
DAHI WALE ALOO
Ingredients
2 – Medium-sized potatoes
1 cup – Yogurt
1 cup – Water
1 tsp – Cumin/jeera
1/4 tsp – Turmeric powder/haldi
1 tsp – Fennel powder
1/2 tsp Garam masala powder
1/2-inch – Ginger
1/4 tsp – Dry ginger powder
1 tbsp – Oil or ghee
Rock salt – To taste
Method
* First boil the potato. Peel and cut into cube.
* Heat oil. Fry the cumin first.
* Then add the ginger and fry for some seconds.
* Add the cube potatoes. Saute for 2-3 minutes
* Then add all the dry spice powders. Stir well and saute for a minute.
* Add the yogurt and stir. Add water and stir again. Season with salt.
* Simmer for some minutes till the gravy thickens.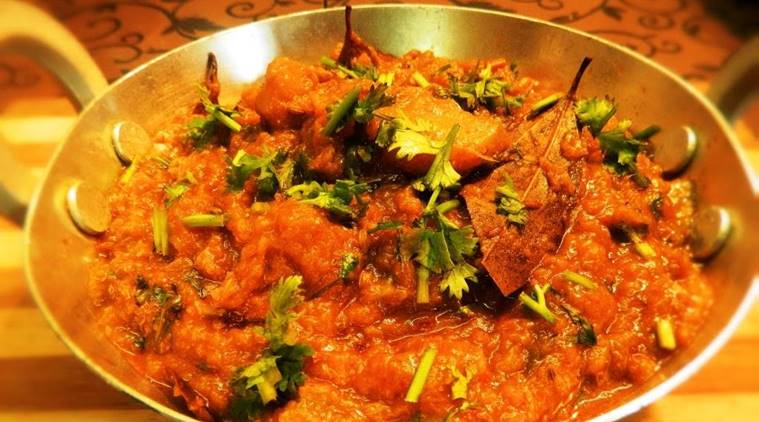 KHATTA MEETHA PUMPKIN
Ingredients
400gm – Pumpkin
1 tsp – Cumin
1/4 tsp – Roasted cumin powder
1/4 tsp – Black pepper
1/2 tsp – Dry mango powder
1 tbsp – Oil
1-2 tsp – Sugar
Rock salt or sendha namak – To taste
Method
* Peel and chop the pumpkin.
* Heat oil in a pan.
* Crackle the cumin seeds first.
* Add the pumpkin, sugar and salt.
* Stir and cover the pan and simmer the pumpkin pieces till they are softened.
* There is no need to add water as the pumpkin will get cooked by its own juices.
* In case the water dries up, then add about 2-3 tbsp water and cook the pumpkin.
* Keep on checking at intervals and if the water continues to dry, then add a few tbsp water again.
* The pumpkin should not get mushy.
* Add the mango powder and simmer for a minute.
* Last, season with roasted cumin powder and black pepper powder.
* Garnish with coriander leaves and serve.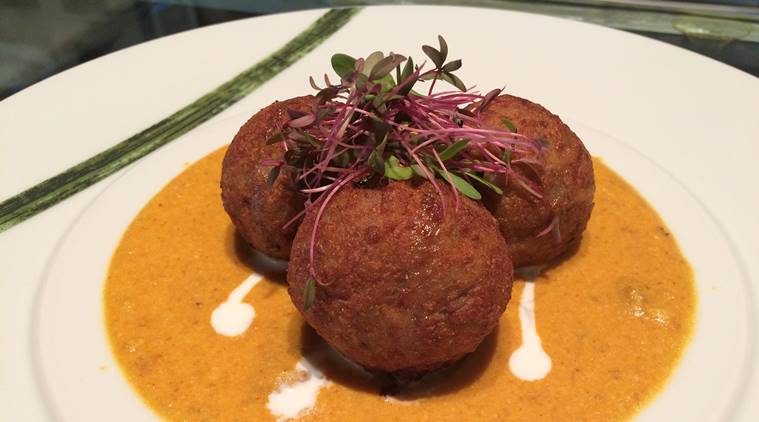 NAVRATRA SPECIAL PLAINTAIN KOFTAS
Ingredients
For the koftas
2 – Raw bananas, boiled in 3 cups water till soft
3 tbsp – Paneer, grated (optional)
2 tbsp – Coriander leaves, finely chopped
Salt – To taste
Oil – For deep frying koftas
For the gravy
1 – Large tomato, puréed
1 tsp – Green chillies-ginger paste
1/4 tsp – Turmeric powder
1 pinch – Cumin powder
10 – Cashewnuts, soaked in 1/4-cup milk for 15 mins, and ground to a paste
1 tbsp – Fresh cream, for garnish (or malai/top of milk)
Salt – To taste
2 tbsp – Oil
Coriander leaves – For garnish
Method
* Cut the end of the raw bananas. Cut each raw banana into two pieces. Do not peel the skin. Boil them 4 cups of water along with 1/2 tsp turmeric powder on low to medium flame. It will take approx 20-30 minutes based on the size of the raw bananas.
* Insert a knife into the raw banana and if it goes through smoothly then its cooked till soft. Turn off heat and drain the water. Cool and peel the raw bananas and grate them.
* In a bowl, add the grated raw banana, grated paneer, green chilli paste, coriander leaves and little mash poataoes and salt. Mix the mixture well so that you can make small lime-sized balls (koftas). Make as many small koftas as you can and keep aside.
* Heat oil for deep frying. Once the oil is hot, reduce flame to medium and place the balls gently into the hot oil.
* Deep-fry to a golden brown shade and remove into a bowl lined with absorbent paper.
* Keep aside and make the gravy.
* To prepare the gravy, heat oil in a cooking vessel. Add the cinnamon stick and cardamom and allow to splutter.
* Add green chilli paste and sauté for 1 minute.
* Add turmeric powder, cumin powder and salt and mix.
* Add tomato purée and cook for 8 minutes. Add the cashewnut paste and cook for 3 minutes.
* Add 1 and a 1/2 cups of water and bring to a boil. Reduce flame and simmer for 7-8 minutes or till it reaches the desired curry consistency. Turn off heat.
* To serve the kofta curry, place the koftas in a deep bowl and pour the gravy over the koftas till submerged. Allow to sit for 7-10 minutes and serve warm.
* Garnish with fresh cream and fresh coriander leaves.
For all the latest Lifestyle News, download Indian Express App