With Father's Day almost around the corner and restaurant reservations fast filling up, are you wondering how to make the day special for your favourite superhero? Well, what better time to put your foot down and show who is the boss in the kitchen! Both of you might not be of the expressive kind, but this Father's Day on June 18, let your dad know how much he means to you, in just the most delicious and heartwarming manne. Cook him a sumptuous brunch he wouldn't say no to! From Egg Benedict to Spicy Lamb Tikkis to Risotto dumplings — we have you covered.
EGGS BENEDICT
Treat your father to a delicious yet simple Egg Benedict dish from Avinash Jha, Executive Chef at Jaypee Vasant International.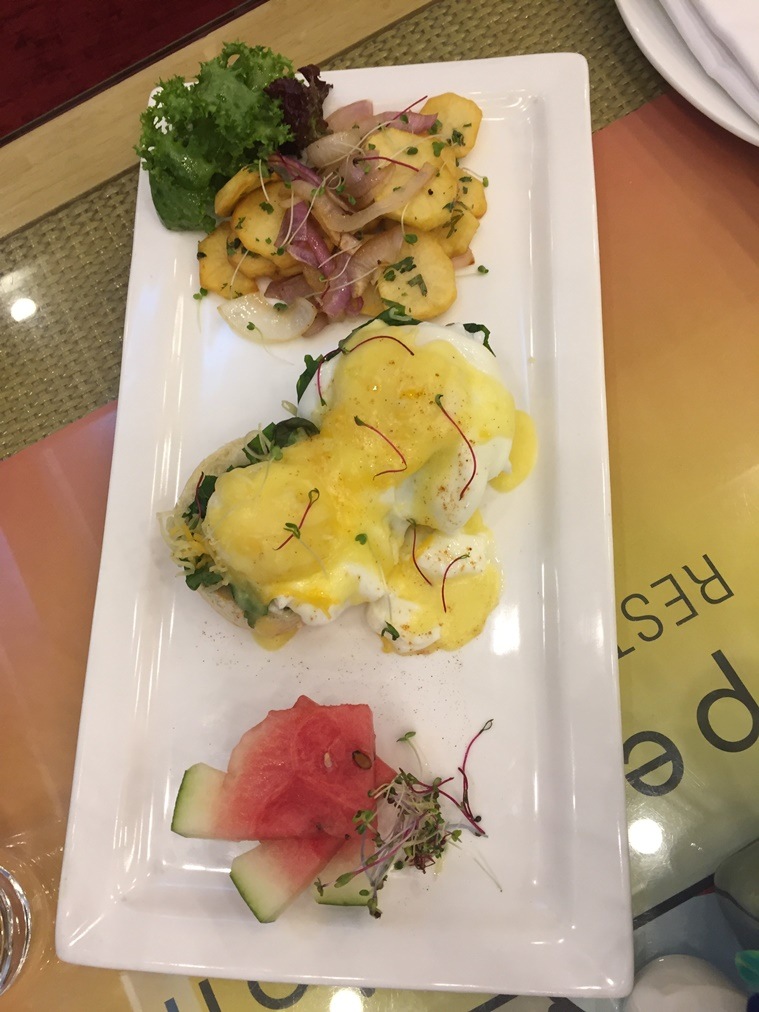 Ingredients
2 — eggs
2 slices — brown bread
2 tbsp— blanched spinach
3 slices — smoked salmon / chicken or ham
2 tbsp— Gruyere or processed cheese
2 tbsp — Hollandaise sauce
A pinch — paprika or red chilli powder
To garnish
1 slice — honeydew melon
1 slice — pineapple
1 slice — water melon
1 slice — kiwi fruit
3 pieces — blanched asparagus
Method
* Heat water in a shallow pan. As soon as the water comes to a boil, reduce to a simmer.
* Gently break two eggs into the water and let them poach for three to four minutes.
* In the mean time, toast the two bread slices and cut them into half, thus into four triangles.
* Place two triangles of toast on the plate's centre, place the blanched spinach on top, followed by smoked salmon slices and poached eggs.
* Sprinkle grated cheese on top. Finish by pouring the hollandaise sauce on the eggs (optional) and sprinkling a pinch of paprika on the sauce.
* Arrange the asparagus spears on the plate, garnish with fruits and serve.
MAPLE MASALA (SPICES) BRAISED CHICKEN LEGS
See your father brimming with pride as you serve him up a delicious dish of Maple Masala Braised Chicken Legs, recipe by chef Vicky Ratnani.
Ingredients
4 pieces — Chicken legs
1/2 cup — Onions chopped
6 — Curry leaves
Mustard seeds — 1 tsp
2 — Slit green chillies
For Maple masala
1/2 — Grated coconut
2 tbsp — Maple syrup
6 — Kashmiri red chillies
1 tbsp — Coriander seeds
1 tsp — Cumin seeds
2 — Cinnamon sticks
4 — Cardamom pods
10 — Black peppercorms
1 tsp — Fenugreek seeds
1 knob — Ginger piece
Salt — To taste
1 tbsp — Ghee or clarified butter
Instructions
For Maple Masala Paste
* Roast all the spices for the masala in a non-stick pan until well done and dark brown in colour.
* Add the maple syrup and grind into a smooth paste.
For chicken
* Heat the ghee in a pot, add the mustard seeds, curry leaves, green chillies.
* As they splutter, add the onions and cook till dark brown in colour.
* Add the chicken legs and sear well on all sides.
* Add the maple masala and mix well.
* Cook on a slow simmer for 30 minutes until the spices are well cooked.
* Season with salt.
* Check the chicken legs and make sure they are soft and almost falling off the bone
* Add a dash of cream, lemon juice, chopped coriander leaves to garnish
* Serve with steamed rice or any Indian flatbread.
SPICED LAMB TIKKIS
Let your dad indulge himself into delectable pieces of Spiced Lamb Tikkis by Chef Joe Manavalan, Assistant Vice President Innovation and Design, Licious.
Ingredients
800gms — Lamb mince
40gms — Onions
15gms — Ginger (chopped)
8 Cloves — Garlic (chopped)
1 tsp — Green chillies (chopped and deseeded)
2 1/2 tsp — Coriander (freshly chopped)
2 — Eggs
4 tbsp — Processed cheese (grated)
1 tsp — Anardana powder
Less than 1 tsp — Black pepper
1/2 tsp — Mint powder
1/2 tsp — Green cardamom powder
1/2 tsp — Black cardamom powder
1/2 tsp — Cinnamon powder
1/2 tsp — Clove powder Teaspoon
1/4 tsp  — Nutmeg powder
To Taste — Salt
Ghee or oil (to fry)
Method
* Mince the lamb meat when it is chilled (at 8 degree Celsius) and keep aside.
* Mix all the above ingredients except eggs and processed cheese in a bowl.
* You could make your own dry roasted spice grounds to enhance flavours.
* Break the eggs into a bowl and whisk it so that it gets loosened up and can be easily mixed into the mince.
* Add all the ingredients together and then gently mix it all up.
* Shape the mince into small tikkis or patties and then rest them for a while.
* Warm a griddle or a tava. Pour some ghee or oil into it and maintain a low flame.
* Place the tikkis one by one into the ghee and allow to cook on one side.
* Then turn them over once the side is golden brown in colour. It should form a crust too.
* Once you turn it over, wait patiently till the other side gets crusty and golden brown.
* Remove and place on a kitchen paper towel so that all the excess oil drains out.
* Serve hot.
NO BAKE CRANBERRY CHOCOLATE PEANUT BUTTER BARS
Want to whip up something easy yet delicious for desserts? Try this No Bake Cranberry Chocolate Peanut Butter bars from the house of Del Monte.
Ingredients
1-1/2 cups — Milk Chocolate Chips
1 cup — Chunky Peanut Butter
1/2 cup — Honey
2 cups — Rice Krispies
1 cup — Del Monte Dried Cranberries
Method
* Line an 8" x 8" square baking pan with parchment and keep aside.
* Place the chocolate chips, peanut butter and honey in a large, glass mixing bowl.
* Microwave for 2 minutes at full power. Remove from the microwave and stir until the chocolate has completely melted and everything is well combined.
* Gently stir in the cranberries. Add the Rice krispies, one cup at a time and mix until well combined.
* Spoon the mixture into the prepared baking pan and level the top using a spatula. Refrigerate until firm, at least two to four hours.
* Lift onto a cutting board, using the overhanging pieces of the parchment. Slice with a sharp knife and store chilled in the refrigerator for up to two weeks.
HIMACHAL APPLE AND POMEGRANATE CHAAT WITH MAPLE TAMARIND CHUTNEY
Is your dad a health freak? Serve him a tasty yet different Himachal apple and pomegranate chaat dish by chef Vicky Ratnani.
Ingredients
1 cup — Apple diced
1/2 cup — Pomegranate peeled
1 tsp — Spring onions chopped
1/2 cup — Potatoes boiled and cubed
Salt and pepper to taste
Coriander leaves chopped
Chat Masala
Chopped green chillies
Big pinch — Red chilli powder
Big pinch — Cumin powder
Maple tamarind chutney
2 tbsp — Tamarind pulp
2 tbsp — Maple Syrup
A pinch of black salt
1/2 tsp — Amchoor powder
A pinch of cumin powder
1 tsp — Olive oil
1/2 tsp — Ginger minced
1/2 tsp — Green chilli minced
1 tbsp — Warm water
Method
* Toss all the ingredients in a bowl to mix well.
* Add the Maple Tamarind chutney and Serve garnished with chopped coriander leaves and fresh Mint leaves.
* Squeeze a dash of lemon juice last minute.
* Blend the ingredients for the chutney until smooth.
CRANBERRY NUT BRITTLES
Make simple and nutritious Cranberry Nut Brittle bars from Del Monte to remind your dad that Father's Day is no exception for eating right and healthy!
Ingredients
50gms — Del Monte Dried Cranberries
100gms — mixed nuts (walnuts, almonds, pistachios)
150gms — granulated sugar
30gms — butter
1 & 1/2 tbsp — water
Method
* Chop the nuts and mix with dried cranberries and reserve.
* Lightly grease a baking sheet (or thaali) and keep ready.
* Place sugar, butter and water in a heavy bottom pan. Simmer over low heat until the sugar begins to melt.
* Stir continuously for about 10 minutes until the sugar begins to turn light brown and melts completely. Once it turns medium brown, drop a tiny drop into a bowl of cold water.
* Test to see that it turns crisp immediately.
* Now quickly stir in a pinch of baking soda, and turn in all the dry fruit and cranberries.
* Vigorously mix in to coat, and then immediately turn out onto greased tray, flattening rapidly with a flat metal spatula, spoon or butter knife. Be careful as the mixture will be very hot, but will begin to harden into shape rapidly.
* Leave to cool, and then break into pieces.
Note: If you like even pieces then mark the brittle with a butter knife or pizza cutter while still warm.
Break up once cool.
THYME GREEN MANGO, RISOTTO DUMPLING
Is your father an Italian cuisine lover? Serve up Thyme Green Mango, Risotto Dumplings from Fio Cookhouse to your daddy cool on his special day.
Ingredients
60gms — Risotto Rice
10gms — Chopped garlic
10gms — Chopped onion
10gms — Chopped celery
45ml — White wine
20gms — Green mango
60gms — Boiled Chickpea
10gms — Fresh red chillies
15gms — Fresh thyme
15gms — Garlic
15gms — Processed cheese
10gms — Mozzarella Cheese
15ml — Olive oil
45gms — Butter
10gms — Fresh cream
10gms — Pommery Mustard
2gms — Salt pepper
10gms — Parmesan Cheese
5gms — Lemon ring
10gms — Rocket Lettuce
Method
* In a sauce pan pour olive Oil and cook garlic, onion, celery well enough. Slowly add the risotto rice to it along with white wine and warm water.
* Let the mixture simmer for about 10-15 minutes over slow heat, stir it well with a wooden spoon to make sure risotto does not stick to the bottom of the pan.
* For the stuffing, melt butter in a pan and add garlic, onion, thyme, boiled chickpea, green mango and fresh red chilly.
* Sauté till it becomes soft, mix and add the cheese. Remove from fire and divide into 3 equal portions.
* Add the green mango mixture over the flatten risotto mixture and roll into a ball shape.
* For the sauce, place a pan over medium flame, add butter and fresh cream and stir. Add white wine and stir for another minute.
* Strain it and add pommery mixture.
* For the pasting, steam the risotto for a minute, divide into two and place in the pasta plate. Then glaze it with pommery cheese sauce.
* Garnish with fresh red chillies and rocket lettuce and serve hot.
For all the latest Lifestyle News, download Indian Express App