The watermelon sorbet is an awesome heat and thirst quencher. I usually have a box of it always in my freezer and whenever it gets too hot to handle, this sorbet comes to rescue (like a super food!). Incredibly refreshing and incredibly easy to make.
You can also freeze it in ice-cube trays and use the watermelon cubes to make watermelon juice whenever you want without adding ice!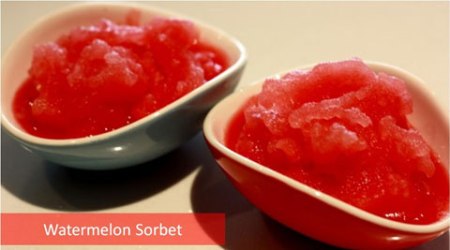 Watermelon Sorbet
Preparation time: 20 mins | Cooking time: only freezing time!| Serves: 4
Ingredients
1 Watermelon, cut into cubes and seeds removed
2 tsp Castor Sugar (the quantity of sugar can be varied depending on the sweetness of the watermelon)
Method
Puree the watermelon cubes with sugar in food processor until smooth.
Add more sugar if required. Remember that the cold will dull the flavour a little
Freeze the puree for 2 hours.
Crush it in the food processor again and freeze again
To serve, blitz the sorbet in a mixer or scrape it out with a spoon
I tried to be a little innovative about serving and cut out a bowl from the watermelon shell… Here's how it looked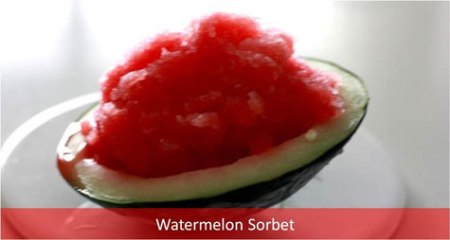 Food is never just food. I believe it's story telling, it's conversation. It brings people together and it speaks a universal language! I love to play around in my kitchen. The thrill of being able to create something new and sharing it with others is what fuels my passion for cooking. The fact that dear husband is a foodie and an honest critique helps! I blog about my adventures in the kitchen at http://www.myweekendkitchen.in/
For all the latest Lifestyle News, download Indian Express App