A young designer journeys from Kanpur to Milan, touching many villages on the way. Fashion designer Rahul Mishra on winning the Woolmark Prize and making off-white an Indian colour.
In 1979, the year he was born, Rahul Mishra's village Malhausi, 80 km from Kanpur, first got electricity. He remembers a childhood spent with his parents and two sisters as a frugal, but not a harsh one — finishing homework under the light of a kerosene lamp because of frequent power cuts, attending a school where the monthly fee was Rs 7 and children sat on durries, not benches. It was the best of times, he says. "My father is a doctor but at the time, he didn't have a job. Every family has its ups and downs," he says.
Years later, when he became the first non-European to win a full scholarship to Istituto Marangoni, the fashion institute in Milan, Mishra says it underlined the sharp bends in his journey. "The fees at Marangoni was Rs 2 lakh a month. I didn't have to pay because I was the scholarship kid. But this contrast, between Rs 7 a month and Rs 2 lakh, makes me who I am, makes me stronger. It shows me what I am capable of, the heights I can reach," says the 34-year-old fashion designer.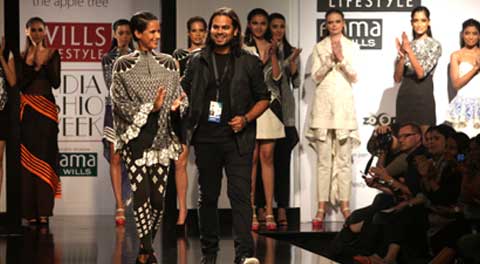 Mishra is currently coasting on the high of being the first Asian to win the prestigious International Woolmark Prize, for a collection that The New York Times said "changed the seasons". For it, the designer created a new fabric that was 85 per cent merino wool and 15 per cent silk. The result was a wispy, translucent cloth which glides in your hands like a summer breeze. Mishra used it to make knee-length dresses and pants in offwhite and yellow, embroidered with lotus and tree motifs. To Western eyes accustomed to conjuring up visions of fuchsia and peacock blue or Manish Arora neons as Indian fashion, Mishra's work was a lesson in seeing anew.
"If I had won this prize with a collection made of chiffon or fabrics picked up from the racks, I would not have been as happy. This is my philosophy and I didn't change it to impress the West," he says. The hard-to-impress style mavens of Milan, all on the front row — Vogue Italia's Franca Sozzani, Gucci's Frida Giannini, Style.com's editor Tim Blanks, Vogue China's Angelica Cheung and British model Alexa Chung — were floored by the technical expertise. Blanks called the collection "scientific fashion" and said it brought tears to his eyes. "It was a dream front row. I will never get this again," says Mishra, when we meet him at …continued »