By: Shikha Kumar
The days may get shorter in winter, but hemlines, sleeves and jackets will only get longer. Even as designers borrow tribal influences, sheer cover-ups and sportswear styling for our summer wardrobes and give them an autumnal update with colours and fabrics, here are some quick trends, hot off the Lakme Fashion Week (LFW) ramp in Mumbai, that will have you winter-ready in no time.
Check out
Chequered patterns peppered everything from smocks and saris, to overcoats and pants. At Prama by Pratima Pandey, checks peeped out from under sheer over-shirts, while Anuj Sharma gave plaid his trademark "Button Masala" treatment. Even as Shruti Sancheti's vibrant weaves formed distinct chequered patterns, Ka Sha by Karishma Shahani's collection "Khoj" used checks prominently in tie-dyed patterns on mid-length skirts, overcoats, shirts and dresses.
Length wise
The pencil skirt of seasons past took a dive, as lengths got longer and silhouettes opened up. Shin-skimming skirts in A-lines and flares found their way to the runways of Surendri by Yogesh Chaudhary, Ka Sha by Karishma Shahani and Urvashi Joneja. We especially loved Frou Frou by Archana Rao's mid-length tea skirts in subtle pinks and yellows, with lace doily-like detailing.
Winter florals
WHO says flowers don't bloom in the cold? Thanks to these designers, the LFW ramp turned into a virtual garden. With the sunflower as its prime motif, Surendri by Yogesh Chaudhary's collection "Chandrawal" focused on new-age corporate dressing for women, with jumpsuits, pleated skirts, fitted dresses and kimono-wrap overcoats. Sashikant Naidu's floral-printed saris stood out in his collection of separates, "Separe". Debutante Arunima Majhi's line "Venus Fly Trap" took florals on a colourful trip with trapeze tops, blouses and dresses.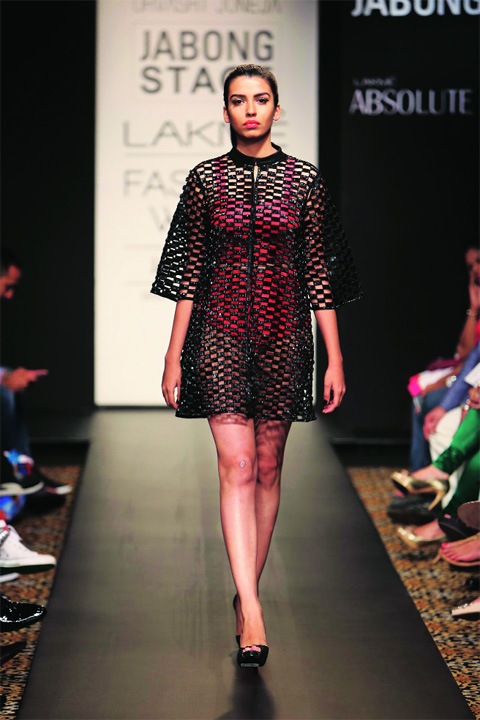 Mesh up
The hangover continued as designers gave clothes some breathing space with mesh inserts. While Urvashi Joneja's grid-like interpretations in "Guarded" were ably complemented by mesh cover-ups over smart separates, the GenNext show saw the younger lot of designers explore this trend further. Apart from Anuj Bhutani's peek-a-boo mesh accents in his collection "Reboot", Dhruv Kapoor incorporated it in the form of androgynous shorts and a black cover-up over a white shirt dress. And Neha Agarwal's "Niola Doa", inspired by the Ethiopian Mursi tribe, had mesh inlays with intricate leather embroidery on body suits.
For all the latest Lifestyle News, download Indian Express App