Written by
Leher Kala
|
Updated: July 21, 2014 12:30:21 pm
In a world where it's becoming increasingly hard to keep up with change, there is a comforting continuity about comic book heroes. They don't age and generally don't die. So it's a little heartbreaking to know the lovable redhead from Riverdale, Archie Andrews, has been killed off.
Compared to dashing superheroes like Batman and Superman who are extremely busy trying to save the world, Archie's problems have always been trivial. For 70 years, his biggest quandary has been whether he likes Betty or Veronica more — but his quest for true love resonates with the reader. Should he go with the rich, hot and volatile girl or the nice, steady one devoted to his happiness? We've all been there. The comics eventually allowed Archie to grow up by exploring his adult life in alternate universes with both Betty and Veronica. They aren't a patch on Archie the teenager. Life With Archie where he's killed off has themes of infidelity and racism. In these gloomy times even a comic book hero can't be permitted an entirely escapist existence — especially since the readers are stoically toiling away at life. In a fledgling economy with far fewer readers, publishers need to be innovative, so characters must evolve to reflect our current world where strife, tragedy and war are the norm. About Archie's grisly end, publisher Jon Goldwater has said on record, "We hope by showing how something so violent can happen to Archie, that we can — in some way — learn from him".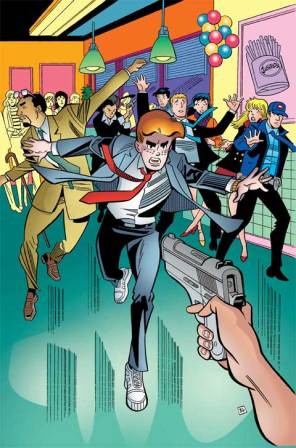 To quote Calvin from Calvin & Hobbes, "Nothing spoils fun like finding out it builds character."  The thought of Archie meeting a violent end makes me weary and tired. Him too? There is enough reality in daily life as it is. All readers know Archie & the Gang's gloriously extended teenage years are fanciful reverie. In fact their Utopian lives are so fantastically out of the realm of possibility, they allow us, for a brief spell to dispense entirely with realism. Of course, the publishers must spoil it by trying to attach meaning to everything.
Must absolutely everything be socially relevant? If the reader was looking for profundity in a comic, there's Batman where they've tackled issues like the use of drones and evil warfare. And if he wants still more meaning there's always Tolstoy or Albert Camus. We read Archie because we want his problems  —  he can drink ice cream soda without worrying about getting fat and come last in class without it diminishing his popularity one bit. His prospects are not great but he is the quintessential good, if average, guy who still wins. Except this time he loses. For most readers however, he will remain a clumsy, bumbling un-Superhero who taught us how cool it is to be just plain and simple — nice. .
hutkayfilms@gmail.com
For all the latest Lifestyle News, download Indian Express App