Ask any book lover and you will know that there is no end to the number of books that they want to add to their possession. Yes, borrowing a book from a library for reading is good but not as great as you having it in your own collection. But then, buying all the books one wants would just leave many broke. There are ebooks, but can you smell them? No! One could plan to live in the Citadel library in the Game of Thrones, but that's dreaming again. And then there is the possibility that kind soul would just give you books for free!
Bingo!
Yes, a London-based book franchise, the Heywood Hill has promised to do just that. To mark their 80th anniversary, they initiated a competition with the prize: "The lucky winner will never need to buy a book again." And do don't be disheartened as it is happening in London, they have opened the competition for the world and not just the UK.
Be still, my fluttering heart!
"The Library of a Lifetime Prize Draw – the world's first lifetime literary prize for readers" has already become an Internet sensation since it was announced on September 30.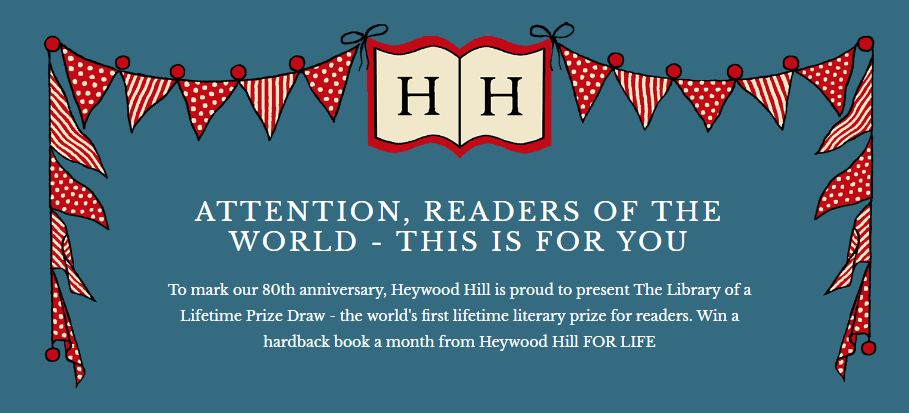 And you won't believe how simple the rule is. You just need to enter the contest by saying, "which single book has meant the most to you, published in English since Heywood Hill opened in 1936." The website of store says as reward, "They will be sent a new hardback book, individually chosen to suit their particular reading taste, every month FOR LIFE."
They have enlisted three awards: The first prize — "The Library of A Lifetime: A lifetime subscription to Heywood Hill's legendary A Year in Books service."
The second — "A Year in Books – Hardback 12", a year-long subscription to the Heywood Hill's A year in Books service, and each month for a year you will receive a hardback book chosen according to your reading taste.
While the third prize will offers books every alternate month for a year.
The competition is open till October 31, 2016, and the winner will be chosen by a draw of lots. It is open for anyone aged 18 years or over.
Have you started working on your entry line yet?
For all the latest Lifestyle News, download Indian Express App