By:
Lifestyle Desk
| New Delhi |
Updated: November 23, 2016 7:13:23 pm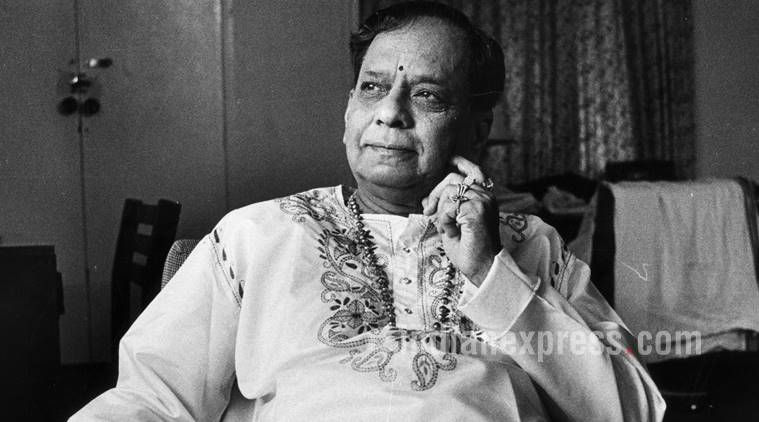 In what can only be described as a huge loss to the world of Carnatic music, legendary singer Mangalampalli Balamuralikrishna passed away on Tuesday, at the age of 86 after a prolonged illness in Chennai. He is survived by his wife, three daughters and three sons.
According to reports, he was not keeping well for a while now. Known as 'God's Own Voice', the veteran Carnatic vocalist was a multi-instrumentalist who also delved into playback singing for films, music composition and even acting. He is known to have composed the music for the first Sanskrit movie Adi Shankaracharya in 1983, along with BV Karanth.
ALSO SEE | Remembering legendary Carnatic musician M Balamuralikrishna: Rare and unseen photographs
Recipient of the Padma Vibhushan, India's second-highest civilian honour in 1991, Balamuralikrishna is known for his immeasurable contribution to Indian music, especially globally. So much so, he was made Chevalier of the Ordre des Arts et des Lettres by the French Government in 2005. This is apart from the plethora of other national and international awards that came his way.
ALSO READ | M Balamuralikrishna, the spirit of Carnatic music
WATCH VIDEO: Noted Accomplishments Of Legendary Carnatic Musician M Balamuralikrishna
A child prodigy from Andhra Pradesh's Sankaraguptam, Balamuralikrishna is said to be the fifth-generation descendant of saint-composer Thyagaraja in the guru-shishya parampara. In a musical career that spans his entire lifetime, Balamuralikrishna's singing appealed to connoisseurs and laymen alike, which is well portrayed by the popularity of his film music and the iconic song Mile Sur Mera Tumhara (in which he joined a gamut of singers such as Bhimsen Joshi and LataMangeshkar) as well as ability to span the three octaves with deceptive ease.
As soon as news of his passing away was known, many took to Twitter and other social media sites to express their sorrow.
81 yrs Mahaguru Dr. Balamurali enthralled millions with music.Thanks 2 technology even death cant silence his voice.Pranam guruji & goodbye

— Kamal Haasan (@ikamalhaasan) November 22, 2016
From All of us at KM CONSERVATORY ..Respect and prayers for the legendary Balamurali ji

— A.R.Rahman (@arrahman) November 22, 2016
Mahan shastriya gayak M. Balamuralikrishna ji aaj hamare bich nahi rahe ,ye dukhad vaarta sunkar mujhe bahut (cont) http://t.co/XeJz3cRK0L

— Lata Mangeshkar (@mangeshkarlata) 22 November 2016
A deep void in music today:: Prayers for #Balamuralikrishna Ji 🙏🏼 http://t.co/FvZRy8nz3d

— Shweta Pandit (@ShwetaPandit7) November 22, 2016
Farewell M. #Balamuralikrishna, the #Carnatic Music Maestro! You enriched the world of music with your voice. May your soul rest in peace… pic.twitter.com/gGOdblkO4g

— Ashok Gehlot (@ashokgehlot51) November 22, 2016
Nobody can fill the void left behind by his death. My heartfelt condolences to the bereaved family. RIP #Balamuralikrishna 2

— M Venkaiah Naidu (@MVenkaiahNaidu) November 22, 2016
Saddened by the passing away of the legendary Mangalampalli Balamuralikrishna.Carnatic music has lost a leading light today.My condolences

— Office of RG (@OfficeOfRG) November 22, 2016
Demise of Carnatic music doyen M.Balamuralikrishna is a huge loss to the music world—he shall be eternally remembered for his contributions.

— Vasundhara Raje (@VasundharaBJP) November 22, 2016
Rip #balamuralikrishna the legend . Have met him on lot of occasions . A great loss to the music industry

— G.V.Prakash Kumar (@gvprakash) November 22, 2016
RIP #Balamuralikrishna , the legend of our own music. Heartfelt condolences to his family.

— selvaraghavan (@selvaraghavan) 22 November 2016
India loses a true legend . Veteran Carnatic musician M Bala Murali Krishna's music will live forever. My condolences to his family. #RIP

— Mamata Banerjee (@MamataOfficial) 22 November 2016
RIP #Balamuralikrishna sir. Legend of the Carnatic Music world. Heartfelt condolences to his family.

— Dhanush (@dhanushkraja) 22 November 2016
What a genius Balamuralikrishna was. Most of you know him as a great vocalist with a 6 octave range but watch this http://t.co/4msY7rqiDV

— Krish Ashok (@krishashok) 22 November 2016
RIP maestro #Balamuralikrishna This '04 #WTT at majestic Mahabalipuram temple. Hear him sing: mile sur mera tumhara http://t.co/D4gtc6Za9X

— Shekhar Gupta (@ShekharGupta) 22 November 2016
A legend of carnatic classical music Mangalampalli Balamuralikrishna passes away into history #RIP.

— Marathon Writer (@anilreddy12001) November 22, 2016
#MangalampalliBalaMuraliKrishna Will miss the greatest musician of all times 😑. May his soul rest in peace. pic.twitter.com/PoEDCE5haL

— KeerthiSugandhi (@Keerthi1989born) November 22, 2016
Very sad to hear that film industry lose another legendary singer Shri #MangalampalliBalaMuraliKrishna Garu.. May his soul rest in peace. 🙏 pic.twitter.com/QdYOn3M4Ej

— manu kocharla (@YupThisIsManu) November 22, 2016
Deeply saddened by the demise of #mangalampallibalamuralikrishna garu….biggest loss to carnatic music….😭😭may your soul rest in music🙏🏻🙏🏻 pic.twitter.com/hSi43tS8eQ

— priyanka (@priyanka3805) November 22, 2016
#rip Padma Vibhushan #mangalampallibalamuralikrishna gaaru .The true legend of Musical fraternity. It's a huge loss pic.twitter.com/us5bCsOAc5

— thaman ss (@MusicThaman) November 22, 2016
Tough to take death news of Mangalampalli BalamuraliKrishna garu. He will always be alive with his music. So sad to knw the news :-(

— Kireeti Damaraju (@KirrD) November 22, 2016
Express your condolences in the comments below.
For all the latest Lifestyle News, download Indian Express App