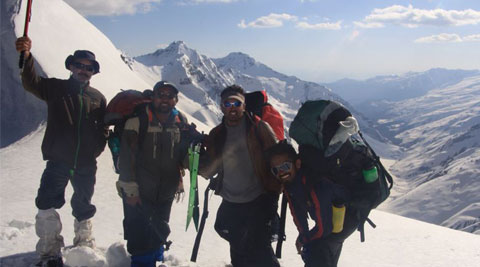 It all started when we all gathered at Regional Adventure Sports Centre (RASC) at Hatkoti, Shimla on April 25. We were a team of seven – Pranav Rawat (team leader), Rohit Thakur (deputy leader), Hament Sharma (High Altitude Photographer), Puneet Rawat, Pawan Nagta, Monu Bragta and Vibhor Joshi (totally non-climber).
The fact that Col. H.S. Chauhan (Director, Indian Mountaineering Foundation) helped us pick the right equipment (on rent) helped.
The real thing started the next day. On April 26, we all embarked on our journey into the unknown, with snowy mountains to give us company, in a utility jeep. Our first stop was the last village of Pabbar Valley i.e. Janglik in beautiful Himachal.
Natives were uncomfortable seeing a group of city men (all smartly dressed-up with gear) going above tree line. They just couldn't refrain themselves from asking the purpose of our visit and our destination ahead. A few of them couldn't fathom why we were going trekking and joked as if we were going to commit suicide. But we ignored them smilingly. With blessings of Mata Hateshwari and Jakh Devta, we started our trek in the afternoon.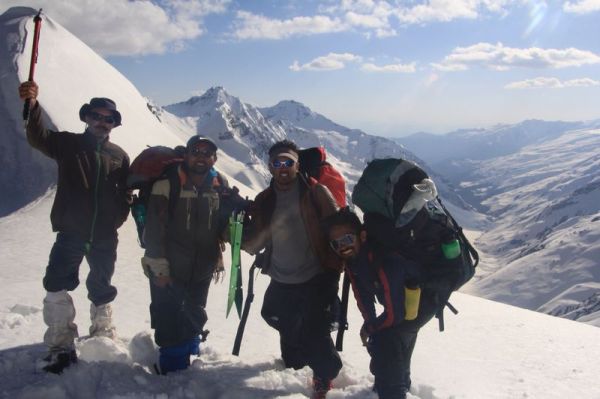 Snow was far more than we thought – that was a surprise! It was getting tougher to open route in snow with just trekking boots. Load in our sacks was killing us as we didn't arrange any HAP (High Altitude Porter) for this trek. We reached Simru Thach (Gazing ground) at 5 pm. It was again full of snow which was surprising. But it was an easy first day as we stayed in an abandoned hut.
Nature had planned a beautiful surprise for us – mesmerising snowfall started in the evening. Oh! It was heavenly.
Next morning we left for Litham Thach under clear blue sky. Route was quite tough as the area was covered with thick layers of snow. Then we realised that the load was too much for us. We spend 3 hours to reach DayaraThach which actually requires half an hour. Since mind was challenged to its limits; it all seemed tough. The entire valley was covered with thick snow and there was no place to rest. But the group was determined and managed to reach Litham by dusk.
Everyone was exhausted and sadly we had wet climbing boots by now. And guess what? We had to camp on snow. Good thing was water was available as river was not frozen.
In night we decided to leave some ration behind to reduce excess weight from our bags in order to advance forward to our destination with less effort and in lesser time. We left 25 kg of ration the next morning in Litham and started to camp next at BuranThach. Snow in certain areas was waist line deep and in some areas the depth was till chest line. It was tough! And it was tougher for the group to move ahead, we all decided on an in -line formation with …continued »