Updated: July 7, 2014 2:59:25 pm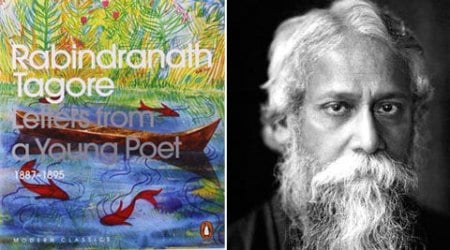 By: Bharati Ray
Book: Rabindranath Tagore: Letters from a Young Poet
Translated by: Rosinka Chaudhuri
Publisher: Penguin
Pages: 364
Price: Rs 499
It is very difficult for a Bengali reader who has been brought up under the influence of Rabindranath Tagore to review a book of translation of his work. Especially Chhinnapatra (the earlier title of the collection of these exquisite letters to Indira Devi) is a work which many of us, like author Buddhadev Bose, read "the most frequently… throughout life". So much of the essential Bengal is there; its fruits and flowers, rivers and canals, boats and boatmen, sky and the clouds and most importantly, its men and women are so alive and so visual that you feel you can see them.
In these letters, the young poet bares his soul and his sensivities to an amazing extent. He was a private person, a lonely person, as all his biographers observe. Could it be that after he had lost his soulmate, Natun Bouthan, (in 1884), with whom he had shared his ideas, dreams, music and poetry (alas, we have no record), young Tagore had only his favourite niece, who "would not misunderstand him", to share his musings? These letters are more than letters. They are a sort of diary, and reflect his daily life, his experiences and sensibilities. The letters are not lost, because as Rosinka Chaudhuri informs us, Indira had copied them all in two exercise books. Written between September 1887 and December 1895, most of them are from the boat Padma on the river Padma, or on the bank of the Padma. The earliest of these Padma letters are dated 1889-90, but most of them are from 1891 onwards. It was in 1891 that Devendranath sent young Rabindranath to look after the family estates in East Bengal (now Bangladesh). This opened a new chapter in the poet's life. From a confined existence in the cultural and aristocratic centre at Jorasanko in an urban metropolis, he came in direct contact with pristine nature and the common men and women of rural Bengal. He writes, "I am a townsman, city born… it was the first experience of village life for one who had remained from childhood inside his city residence. (Reminiscences,1917)"
The next 10 years are regarded as the most productive period of his literary career. At this time he also started writing short stories (later collected in Golpoguchha), creating a new genre in Bengali literature.
The first thing that one notices about the letters is that the writer was young, says Chaudhuri in her Introduction. Tagore himself says that it was his good fortune that he was young. It explains the exuberance and the uninhibited emotions. When I first read Chhinnapatra, I was also young; I was charmed not by the freshness of youth, but by the poet's oneness with nature and his simultaneous perception of beauty and human life. "The world is constantly new to me, like someone I have loved for a very long time and over many lives; there is a very deep and far-reaching relationship between us." Tagore, the ultimate philosopher, was evolving on the banks of the Padma.
According to Pramathanath Bishi, a noted Tagore scholar, Tagore said that he had two goals in his literary creation. One was "to probe the cycle of agony and bliss, separation and togetherness that mark human existence," and the second was "to explore the unchartered land of beauty and elegance." In his short stories, he did the first and in his poetry, the second; both were shaped by his years in Shilaidaha.
The letters give us a glimpse of Tagore's evolution as a creative artist. He writes of enjoying the exquisite river by whose bank, and in a boat, he spent hours on end, alone, steeped in the beauty of nature (Sonar Tori [The Golden Boat, 1892] was written at this time). Because of the bauls and the boatmen he met, he was able to compose some of his most famous songs in which their influence is perceptible in both music and philosophy. At the same time, he met his tenants and learned about their problems and the realities of their lives. Some of the most memorable characters of his short stories were conceived here. For example the postmaster of the story Postmaster was modelled on a local postmaster.
I do not quite agree with Chaudhuri that Mrinmoyee of Samapti was based on the scene of a "young girl forcibly parted from her natal family by the riverside". I cannot recall any forcible boat journey in the original Bengali story. On the other hand, the famous scene of Kalyani courageously facing the British General (Aparichita) may have a resemblance with a real life scenario at Shahjadpur. Tagore saw a daroga brandishing a staff and threatening a group of bedes. While the head bede was cowering, a woman suddenly "stood up and waving her arms began to fearlessly deliver a lecture at the top of her voice right in the daroga's face. In a trice his forcefulness declined …he began to slowly retreat."
All translations are difficult, translating Tagore is especially so. Those who, like Chaudhuri, are translating Tagore's work into English in order to make them accessible to non- Bengali readers, are enriching world culture. Chaudhuri has already made a name for herself as a competent scholar, and her work on Derozio has won wide acclaim. This will add a feather to her cap. The introduction is scholarly, the translation good. The language flows easily and the note on transliteration and pronunciation is useful. Penguin's production is competent, though the jacket could have been neater. Fortunately, the quality of the jacket has nothing to do with that of the translation. I recommend all those Tagore lovers who cannot read Bengali to read this excellent work.
Bharati Ray is vice-president of ICCR
For all the latest Lifestyle News, download Indian Express App