Death live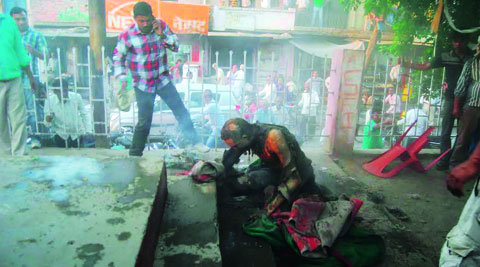 Durgesh Singh after he was found in flames at a Sultanpur meeting. It's not clear what he was doing 200 km from home and 50 km from his place of work. Express
It was one of the most unforgettable images of Elections 2014. It was also the most quickly forgotten. A week before Sultanpur — where the BJP's Varun Gandhi and the Congress's Ameeta Singh are in the fray — went to polls, a 39-year-old man erupted in flames during a live TV discussion in a busy market in the constituency and brought down with him a local BSP leader. Within three days, both were dead.
There are claims Durgesh Kumar Singh was "mentally unstable" and set himself on fire, though police have little evidence of it so far. What they have are records of Singh making calls to UP DGP headquarters and a Mau police call centre, threatening immolation. "He was having problems with his father and wife. What exactly he said in his phone calls is not yet known to me," says Sultanpur SP Pratibha Ambedkar.
Denying that the BSP's Kamaruzzama 'Fauji' was Singh's accidental victim, his family has called the incident a political conspiracy. Kamaruzzama, who had long been in the Samajwadi Party and later the Congress, had just days earlier switched sides, and was believed popular enough to swing some votes.
Police have lodged an FIR for murder and conspiracy against unidentified persons.
What also remains unclear is what brought Singh, originally from Bellagarh village in Mau, over 200 km away, to Sultanpur.
The story that has been strung together so far rests on a mobile phone and a key to Room No. 31 recovered from Singh. Police traced the key to Hotel Raj, 500 metres from Tikonia Park, the ground where he immolated himself on April 28. Singh had checked into the hotel at 11.15 am the same day, giving his real name and address.
From Singh's room, police claim to have recovered three bottles of beer, a half-eaten meal and another mobile phone. "Singh reached here at 10.54 am, wearing a jeans and T-shirt. He gave us his driving licence as identity proof. We noticed nothing unusual, he was normal," says Girish Kumar, the receptionist at Hotel Raj.
The hotel's CCTV footage shows Singh checking in with a small rucksack, which was later found in his room. Singh left the hotel on April 28 around 3.54 pm. He lingered outside his room for a while and appeared to be talking to himself. At the time of leaving the hotel, he did not have anything with him.
"He came to the reception to give me his key. I told him to keep it as his belongings were in the room," says Kumar.
Less than an hour later, Singh turned up …continued »