Y S Vijayalakshmi: From mother to mainstay of Jagan's Seemandhra campaign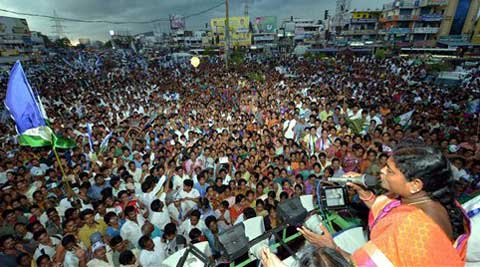 YSR Congress Chief YS Vijayamma addressing during an election rally in Vizag on Saturday. (PTI)
The younger men get a warm and lasting handshake, the older among them a more reserved namaste. As women flock to see her in large numbers, she leans forward for a whispered comment in the ear, or just nods understandingly. Old YSR loyalists rarely leave her side, but fighting her second election, four years after her husband's death, Y S Vijayalakshmi is clearly a woman who has come into her own.
Not the first example of the transformative power of both Indian politics and circumstances, the wife of the late Y S Rajasekhara Reddy moves effortlessly from being a warm matriarch and a wronged wife and mother to an angry leader seeking her due from an ungrateful ruling party.
Far from the comfort zone of YSR's home district Kadapa in Rayalaseema region, it may appear a bold gamble by son Jagan Mohan Reddy to field Vijayalakshmi, popularly known as Vijayamma, from an area where the YSR Congress Party is not very strong and where the TDP is giving a tough fight. However, as he pitches to win most of the 25 Lok Sabha seats in Seemandhra on May 7, there is a reason he has fallen back on the 58-year-old in Visakhapatnam.
The housewife has been long gone, transformed steadily into the sheet anchor of the YSRCP. The party's victory in the by-elections when Jagan was in jail for 16 months was largely credited to Vijayalakshmi's ability to hold things together.
"I was a 100 per cent housewife, and still don't want to be an MLA and MP. I told Jagan that it was enough that I was honourary party president, but he thought my contesting from here would influence the three north coastal districts and assure people that all the promises made by Rajasekhara Reddy (as she unwaveringly calls YSR) will be kept," Vijayalakshmi, currently an MLA from YSR's seat Pulivendula, reasons with a smile.
Nudged, she admits some role in YSR's schemes, a bedrock of his politics, which touched the lives of almost every resident of the state and continue to dominate Andhra politics.
Recalling a fortnight-long trip to the US in 2003, Vijayalakshmi says, "Everybody was talking of free education, health and pensions and people told me that women could afford even going to the beauty parlour with those pensions. We were coming back via Dubai, and Dubai glowed even more than the US. I remembered that the Bible talks of how Ishmael was born to Abraham and because of that Lord blesses him and says you will have 12 wealthy countries — which is the 12 Islamic countries — and then God blessed the US also. Similiarly, I prayed to God to bless Rajasekhara Reddy… All the schemes that were introduced were not here in India… I told Rajasekhara that, …continued »