Writing on the wall: BJP workers want Modi, not Joshi, in Varanasi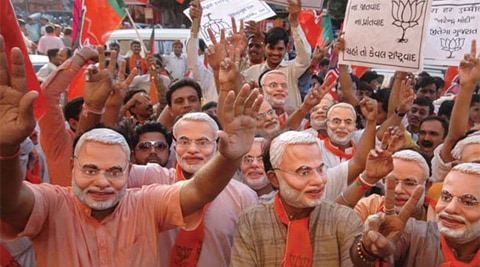 In this photo BJP members wear Narendra Modi masks during an election rally. (AP)
It's been over a fortnight since Tarla Joshi inaugurated the new central election camp office of her husband and local MP Murli Manohar Joshi near Kachehri in Varanasi city. Spread over two acres, the office has a hall and seven rooms. But it wears a deserted look, amid reports that Joshi may lose the seat to the party's prime ministerial candidate Narendra Modi.
"Party workers will start work with new enthusiasm after the candidate is declared. The activities at the election office will pick up only after that," said Basant Lal Jaiswal, RSS worker and in-charge of Joshi's election office.
Varanasi is set to go to polls on May 12. The local party unit is divided, with many wanting Modi as their candidate. Their sentiments are reflected in some of the hoardings put up across the city. Sources said Joshi expressed his unhappiness when the party's municipal corporator put up hoardings with Modi's photograph, followed by the  slogan, "Aa raha hun main", at a rally in Varanasi in January. At a recent rally in Lucknow too, a group of workers from Varanasi raised slogans like "Modiji tum raaj karo, Joshiji tum tyag karo".
The Hindu Yuva Vahini (HYV), which is headed by party MP from Gorakhpur Yogi Adityanath, has also put up hoardings in Varanasi in support of Modi. "We want Modi to contest from Varanasi because Joshi's term was not satisfactory. Joshi was absent in public and we hope that Modi can develop Varanasi in a better way," said Ambrish Singh, HYV district president, Varanasi.
Banners and posters featuring Joshi's photographs, with slogans like "Bole Kashi Vishwanath, Dr Joshi ka denge saath" and "Atankwad par lage lagaam, Dr Joshi ka paigam", have also been put up across the city.
Joshi's supporters have also published booklets highlighting the development work carried out by him. They claim that Rs 19 crore was spent on various projects in the city in the last five years.
But others point out that the road right outside Joshi's residence is in urgent need of repair. It was dug up last October by the Ganga Pollution Control Unit of the Uttar Pradesh Jal Nigam for some sewerage work. Commuters have to drive over three iron sheets covering a deep pit, putting their lives in danger.
"When the condition of the road right outside his residence is like this, you know what to expect in other parts of the city," said a paan vendor near Joshi's residence. "There is a Modi wave and he will win if he contests from here. But there is no such surety about Joshi this time," he said.
"I want Modi to contest from Varanasi because he has a clear vision for all-round development. But if BJP fields Joshi, I will vote for him only because I want Modi to become …continued »