Won't be vindictive… will ask SC to clear MP, MLA cases in a year: Narendra Modi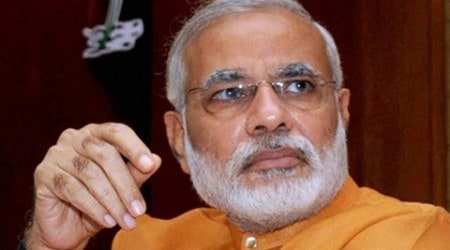 Modi said there would be no change in the "no-first-use policy" on nuclear weapons.
The  BJP's prime ministerial candidate Narendra Modi has vowed that he would not be vindictive if voted to power.
Responding to questions during two TV interviews telecast ahead of the largest phase of the Lok Sabha polls on Thursday, Modi stressed that he would not launch a witch hunt against Congress president Sonia Gandhi's son-in-law Robert Vadra in connection with his controversial land deals.
The Gujarat chief minister also spoke about disposing of criminal cases against MPs within a year's time and said he should be hanged in the town square if he was found guilty in the 2002 communal riots in Gujarat.
"Let the law take its own course," Modi said in an interview to TV9 telecast Tuesday when asked about Vadra's land deals. "There will be no role for Modi or Modi government… Our focus will be positive, to fulfill the pledge made to the public. No government should work with a vindictive mindset. Democracy is not meant for that. Modi, in particular, should never do that.I have faced it for the last 12 years."
Reacting strongly to questions about his "silence" on the 2002 Gujarat riots, Modi said that if there was any truth in the allegations against him, he should be hanged in the town square and made an example of.
"I am convinced that if there is even a grain of truth in the allegations, I feel, for India's bright future and traditions, Modi should be hanged in the town square. There should be such exemplary punishment that no one dares commit such a crime for 100 years… If he has committed a crime, Modi should not be pardoned. There should be no apology," he said in an interview to ANI on Wednesday.
Modi also talked of setting up special courts to check criminalisation in politics.
"What is the solution? That political parties do not give tickets to such people? But frankly, such a situation is not feasible just now. I am determined that candidates, MPs from whichever party, including the BJP, against who cases are already lodged, I will request the Supreme Court to dispose of their cases within a year's time. So that if they are guilty, they go to jail and vacate the seat for a non-criminal," Modi said.
He termed the controversial case of taxing telecom giant Vodafone retrospectively as a "breach of trust" and said that it had led to a trust deficit among investors and driven them out.
"If I took any such retrospective steps in my state, we would not have got the confidence of anyone. A breach of trust should not happen…If we change the policy overnight, we will not get the confidence of investors. The crisis of today is that of trust. The whole world wants to invest here but there have been so many ups and …continued »