BJP goes to EC, threatens protest after Varanasi DM blocks Modi's rally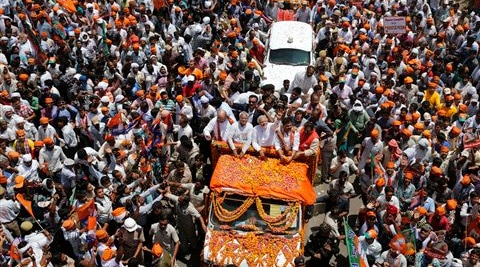 Narendra Modi was denied permission for holding a rally in a crowded area here on Thursday. (AP)
The district administration of Varanasi and the BJP were locked in an angry confrontation Wednesday after the authorities refused to permit Narendra Modi, the party's prime ministerial nominee and the candidate from the constituency, to hold a rally at the Beniabagh Maidan in the city.
The rally was scheduled for Thursday.
An upset BJP accused district electoral officer Pranjal Yadav, who is the returning officer for the constituency and the district magistrate, of acting under pressure from the state government and announced it would protest against the decision outside Banaras Hindu University and the Election Commission in Delhi.
The party also cancelled all of Modi's programmes scheduled in Varanasi Thursday and wrote to the EC demanding Yadav's immediate removal. Yadav could not be reached for comment.
Late on Wednesday night, Yadav announced that the BJP had been allowed to organise the other events for which it had sought permission. But the party rejected this saying it had come too late.
Senior BJP leader Arun Jaitley and the party's UP in-charge Amit Shah alleged that the district administration was not being impartial and was "stopping Modi from campaigning in his constituency, which was the right of every candidate".
Jaitley also wrote to the EC accusing Yadav of harbouring a "partisan attitude" and asked the poll panel to remove him.
The EC, however, rejected the BJP's charge of bias and said it was looking into the issue and would ensure fair and peaceful polls there. "The commission does not accept insinuation of inaction or bias in this regard. As in all matters, the commission will act correctly while facilitating legitimate campaigning by all political parties," deputy election commissioner Vinod Zutshi said.
"The commission is getting all the facts about the developments in Varanasi, particularly in relation to the request which has been received from the BJP for holding certain meeting and events there. Local authorities, the district administration there, who are directly in charge of law and order, have their assessment in the matter," Zutshi added.
Modi was scheduled to address Bharat Vijay rallies at Beniabagh and Rohania in Varanasi on Thursday evening. He was to also perform the aarti at the ghats along the Ganga.
Jaitley slammed the move to deny permission and said these acts were creating an apprehension that elections in Varanasi "cannot be free and fair" with Yadav as returning officer. "He continues to be an obstacle in the campaign and is acting in a highly partisan way," Jaitley said in his letter to the EC.
In a late night statement, the EC responded to Jaitley and said the commission had always given prompt consideration to complaints from the BJP and other parties. "Hence the commission is surprised and disappointed that your party has chosen to hold protests…," it said.
Permission for the rally had been refused …continued »