Where a teen cannot spell, more schools cannot chase more votes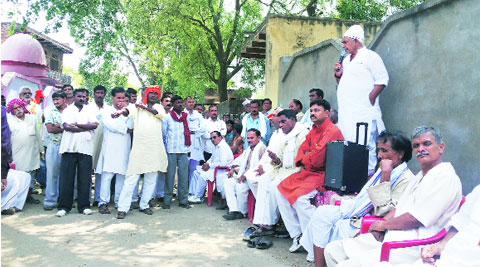 BJP candidate Manoj Sinha addresses farmers in Ghazipur. Vinay sitapati
teacher shows up. Asked who is responsible, Kiritram smiles. "Today, we can attend schools with the others. She [Mayawati] gave us strength".
The BJP's candidate, Manoj Sinha, claims to strengthen everyone. Speaking to farmers in Phulli village, he promises the "Gujarat model of development for all". Sinha, MP in 1996 and 1999, is being optimistic, since even BJP workers see no overwhelming "development wave" here. They believe that any of three parties — SP, BSP, BJP — could win. But even a five per cent swing for the BJP may result in victory, such are the workings of the first-past-the-post system in a multi-cornered fight. And the once-dead BJP local unit now has a fighting chance. Asked who her nearest rival is, Kushwaha says "Modi", not Mayawati. Kiritram adds: "Every shop in Ghazipur has a lotus sign. His [Modi's] face is on TV all the time". Kiritram himself will vote for "elephant" [BSP, whose candidate is Kailashnath Singh Yadav], but there are some in his 10-member household who will "try Modi" this time.
Campaigning at Phulli village, Sinha stands atop a steel cot propped over an open drain. He blames the Congress for price rise and warns against regional parties that want votes not to govern but "to sell themselves in the bazaars of Delhi". But even he is silent on primary education, on the schooling revolution taking place in his constituency. Asked why, he says: "Schools is a state subject. Central government [and so, the MP] can't do much. We have to win the state first."
Aspirations and central funds create possibilities for every child. But they turn real only when the state government thinks this will lead to votes. Where that happens, as in Tamil Nadu and Gujarat, schools shine. Where it doesn't, like here in eastern Uttar Pradesh, aspirations are met through private enterprise and migration. It is the poor, condemned to absent government teachers or high private fees, who suffer most. Ghazipur's sordid reality is of a 13 year-old girl still struggling to spell.