Where a teen cannot spell, more schools cannot chase more votes
In this part of a series on constituencies that have improved on social indicators, The Indian Express visits Ghazipur, where the number of schools has increased but the quality of education has not improved.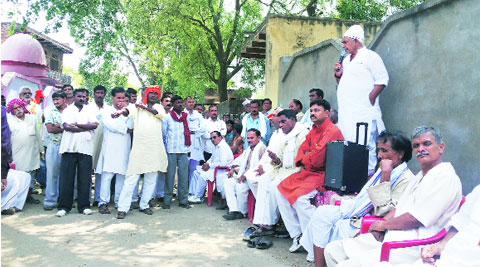 BJP candidate Manoj Sinha addresses farmers in Ghazipur. Vinay sitapati
primary education in the district replies: "The [central] Sarva Shiksha Abhiyaan focused only on accessibility, not on teaching… there is a problem of teachers in entire UP." The Congress candidate, Mohd Maqsood Khan, is more scathing. "The Centre gave money. But the state has stolen all of it. What can be worse than stealing from the poor. It is a tragedy that an area that once produced IAS, IPS officers, now has a 5th standard child who can't read."
Rajeshwar Singh, a former primary schoolteacher and long-time Congress worker, adds: "All that money has made schools into hotels. Children come, eat [midday meals], and go learn elsewhere".
Singh sends his own children to private schools, as does anyone with means in Ghazipur. "There are four government schools, but 12 private schools [in his village]," Singh says. Baladevan Rangaraju, director of the education think-tank India Institute, argues that the actual number of private schools is likely higher. "These can be even a single room. But unlike government schools, teachers show up and listen to parents. Ghazipur, like the rest of India, is witnessing a private school revolution for the poor. And it is because the government is incapable of delivering quality."
The worst of private schools are the one-room horrors that Rangaraju mentions. At the top end are schools like Mount Litera Zee School, whose architecture seems more Germany than Ghazipur. For around Rs 2,400 a month, students have access to 21 dedicated teachers, a CBSE syllabus, arts and crafts, and a large computer room. Mohit Srivastava, the director at Mount Litera, says that "in just the last two years, four big private schools have opened here". Priyanshu Saxena, the school's headboy, speaks practised English as he explains that his "father has a medical supplies business and mother is a homemaker". He will soon leave Ghazipur, he says, to study in Delhi.
Politics as usual
Shivkanya Kushwaha is unaware of the surging demand for quality schooling in her constituency. The Express met her in Khanpur village. She is sitting by a truck with an LCD screen projecting videos of party leaders Akhilesh and Mulayam Singh Yadav to villagers. Inside, a live band of singers, harmonium and tabla players belt out Bhojpuri tunes set to Samajwadi lyrics. Asked what the problems of education in her constituency are, she says, "I have just left the home for politics. I will take time to know these things."
The Congress's Maqsood Khan sees a sinister motive for this inattention to government schools. Both the BSP and the SP came to power on the backs of backward caste and Dalit voters. Khan says, "Now in government schools, only backward children study. They don't want their vote bank to get educated. because they will start demanding more".
Sriram Kiritram, a Dalit, works at the sprawling opium factory in Ghazipur. The eight children in his family are playing hide-and-seek in front of his two-room house. He cannot afford private schools. So they waste their days in the government school, a 100-child nightmare where only one continued…