Where a teen cannot spell, more schools cannot chase more votes
In this part of a series on constituencies that have improved on social indicators, The Indian Express visits Ghazipur, where the number of schools has increased but the quality of education has not improved.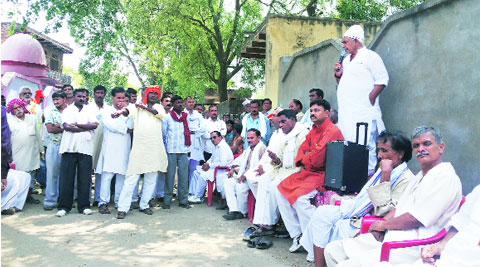 BJP candidate Manoj Sinha addresses farmers in Ghazipur. Vinay sitapati
The hoarding for "Sunbeam School Chaubeypur" displays two improbably white girls reading from the same book. Another, for "St John's World School", has a picture of a child playing. "Ved International School, Saidpur" advertises smiling children in front of an algebra-laden blackboard. Welcome to Ghazipur, which goes to vote on Monday. It's hard to miss the shiny "world" schools being set up on dusty wheat fields here. But at least one person hasn't noticed. Samajwadi Party candidate Shivkanya Kushwaha, whose party runs the state and controls a majority of the assembly seats here, says, "I don't know about schools. I am new to politics."
Kushwaha is from a roster of candidates straight out of an Anurag Kashyap film. Her politician husband is in jail. She is up against a western UP don from a party run by a local variant. The man to beat, though, is the BJP candidate, a landlord. He hopes to benefit from the "Modi wave" in nearby Varanasi.
No candidate though is talking about another wave washing the region – the demand for quality schools. Ghazipur has seen a 72 per cent increase in the number of schools, public and private, between 2008 and 2012, according to the District Information System for Education. This is the second largest increase in any district in India. During this period 2,15,041 additional children were enrolled here, the fourth biggest increase in the country. Many other districts in UP are doing well. What explains this development? Is it leading to votes?
The writings on the wall confirm the private school revolution in Ghazipur. To that extent, the statistics hold true. But improvements in government schools are limited to brick and mortar, and more enrollments doesn't mean more students in class.
The "upper" primary school (for 6th to 8th standards) in a small village in Ghazipur is freshly painted. Tapeshwar Singh Yadav, the assistant teacher, says three new buildings have been built since 2006, when the Congress-led central government ramped up expenditure on primary schooling. Yadav says: "I have been teaching here since 2002. In 2006, 45 children studied here. Now 90 are enrolled".
But mere buildings and enrolment do not an education make. Only 12 children are present on the day this reporter visits the school. The remaining 78 are "in the fields, not come, or in private schools". Yadav also points out that no new teachers have been hired. "There are still three teachers here." Only two are visible. The third "has gone to her village". During an afternoon English class, the 12 students leisurely copy 'CAT' and 'HOUSE' from the blackboard to their books. They have been studying English for six years. One of them is asked to speak in English. She slowly spells her name out, then falls silent.
Asked why buildings have not led to learning, the bureaucrat in charge of continued…