Week to go for vote, candidate dumps Cong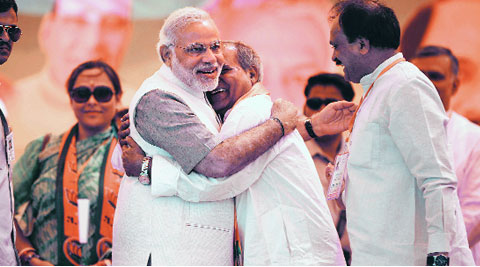 Modi and Tomar in Ghaziabad on Thursday.
A week before voting day, the Congress candidate for Gautam Buddha Nagar crossed over to the BJP, marking the second desertion by a Congress Lok Sabha candidate in under a month.
Ramesh Chand Tomar appeared on stage with Narendra Modi in Ghaziabad, and looked thrilled as Modi hugged him before a full house of BJP supporters. Later, every time Modi mentioned him as an old and dear friend, Tomar stood up and waved delightedly to the crowd.
The Congress is now in a peculiar situation in Gautam Buddha Nagar. It has lost its candidate, but cannot have a replacement because the last date for nominations is over. But because the last date for withdrawals is also over, Tomar's name will appear on the electronic voting machine next to the Congress's hand symbol, and he will be in the race when the constituency votes on April 10.
Tomar was the BJP member from Hapur for four consecutive terms from 1991. He lost the 2004 election for the seat, and joined the Congress in 2009 after the BJP ticket for Ghaziabad — which replaced Hapur after delimitation — went to Rajnath Singh. He contested the Gautam Buddha Nagar seat for the Congress but came fourth in a four-cornered contest.
On Thursday, Tomar spoke of his "friendship" with Modi, and extended his support to Mahesh Sharma and Gen (retd) V K Singh, the BJP candidates from Gautam Buddha Nagar and Ghaziabad respectively. Asked why he had dumped the Congress after receiving the party ticket, Tomar said he had done it for his supporters and for Modi.
"People want to see Modi as PM, and if I contest, the BJP candidate will not win. My supporters too feel that I should campaign for Modi who will bring development, safety for women, and jobs. I trusted my supporters, and decided to return to my family (BJP)," Tomar said.
"Joining the Congress had been an emotional, spur-of-the-moment decision. All of us make mistakes, I did too. I have corrected it while there was still time," he added.
Last month, retired IAS officer Bhagirath Prasad Singh joined the BJP just a day after the Congress announced he would be its candidate from Bhind in Madhya Pradesh. Singh, who contested unsuccessfully for the Congress in 2009, is now the BJP's candidate for the seat voting on April 17.
Senior Congress leader Anand Sharma on Thursday described Ramesh Tomar and other deserters as "political opportunists". In Lucknow, Zubair Khan, the AICC secretary in charge of Uttar Pradesh, alleged that Modi aide and BJP state election in-charge Amit Shah, had been trying to bribe Congress candidates.
"We have information that Amit Shah is trying to bribe Congress candidates, and is resorting to all kinds of malpractices. We will approach the Election Commission with our complaint," said Khan, who is managing his party's election affairs in the absence of general secretary in charge of UP Madhusudan …continued »