'We gave instant justice, today's youth can't stand up for their mothers'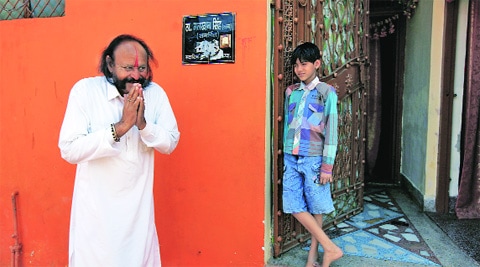 Malkhan Singh at his residence in Gwalior. Ravi Kanojia
He is over six feet tall, his commanding voice and unruly hair and moustache speaking of a past that was once untamed. The over a hundred criminal cases against him have earned him a prefix to his name. But he says, "Dacoit nahi, main baaghi tha (I was a rebel, not a dacoit)." Over three decades after he surrendered, "Baaghi" Malkhan Singh has returned to the ravines of Chambal.
He and his men once stomped this land. But in 2014, Singh comes in peace, seeking to tap into the "respect" his name once generated, in his campaign for the BJP in Madhya Pradesh.
Singh claims his word still carries weight because he was never a "daku". "We were baaghis, revolutionary maan lijiye. Our lands had been taken away and there was no respect. We never looted from the poor in Chambal. Bhind-Morena knew that I did what no government would do at the time. Bandook se hi sahi, lekin nyay ke liye ladta tha (we fought for justice even if it meant taking up guns)," says Singh.
He says he took to a life with arms in 1972, after a land dispute in his village of Bilao in Bhind. The next decade saw him earning infamy, with cases registered against him in the three states of Uttar Pradesh, Rajasthan and Madhya Pradesh. In 1982, he surrendered to the then Arjun Singh government in the state. "There were 5,000 policemen in Chambal but they couldn't find me. I got tired of playing hide and seek," he says.
His life in Gwalior, surrounded by his children and grandchildren, is now bound by rules. "I wish I could show you the guns I used to have. But you will take a photo, and the model code of conduct is in place," says Singh.
Speaking of his days in the wilderness, he becomes almost wistful. "Yeh balatkaar jo ho rahe hai, ye kya badtameezi hai? Jab hum the, to apmaan ka badla vahi ho jaata tha. Koi behen beti ki taraf aankh nahi uthata tha (the rape incidents which are taking place today would never happen during our time… there would be instant justice). But today's generation doesn't have the 'current' to stand up for their mothers," says Singh.
Explaining his decision to back the BJP, he says, "I supported the Congress before. But in 10 years, they have been weak. Other countries take away our soldiers and we do nothing. What use are our guns and bullets if we don't respond to anyaya (injustice). Our only hope now is Narendra Modi, who is strong and forceful."
Over the last fortnight, Singh travelled through areas he knows well, using his knowledge of the land and its people. "The party has its bade netas who come and go. But I know the people and the land in rural Bhind and Gwalior. These …continued »