Waiting at Ram Kripal's home, Misa hopes 'uncle' won't leave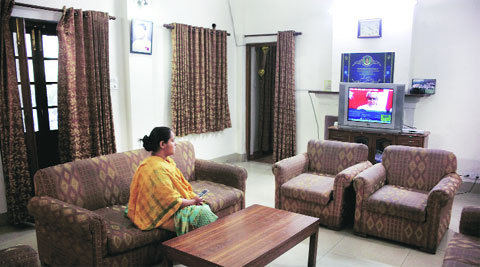 Alone at Ram Kripal Yadav's home in Delhi on Friday afternoon, Lalu Prasad's daughter Misa watches television — which, ironically, is showing pictures of her father's arch rival Nitish Kumar. (Photo: Anil Sharma)
With her husband by her side, Misa Bharti, Lalu Prasad's 37-year-old eldest daughter, waited to meet RJD Rajya Sabha MP Ram Kripal Yadav at his Delhi residence for over five hours on Friday.
She had an offer for the man who has for years been considered perhaps her father's closest aide, but he chose to respond to her only late at night — by when Misa's position seemed to have shifted a little. And developments in Patna suggested that the reconciliation Misa appeared to have desired had moved further away.
Yadav was at home, talking to a TV channel around 1 pm when Misa arrived unannounced and parked herself in his living room. Yadav's son, Abhimanyu, told her that Yadav would be with her shortly. But Yadav switched off his mobile phone and left without meeting her.
Misa waited for him until the evening, but he did not return.
Yadav has been furious with Lalu for giving the RJD ticket for Pataliputra, the Lok Sabha seat he had been eyeing, to Misa. Lalu's daughter went to Yadav's home in the afternoon to offer to give up her ticket for him.
"I would like to forego my candidature to have my uncle (Yadav) by my side, if that is what he wants. I have not come to a stranger's home here; I have always regarded this as my own house. But today he chose to go away without meeting me. So I am waiting," Misa told The Indian Express while sitting in front of the TV in Yadav's living room.
"It was he (Yadav) who had always encouraged me to enter politics. Now that I am about to contest elections, I don't want my chachaji to leave us over such a minor issue," she said.
RJD sources said Yadav was in touch with the BJP for the Pataliputra ticket. Yadav himself denied this on Friday morning. "There is no such talk. I will decide what I will do," he told reporters before leaving home.
Drinking multiple cups of tea for over five hours, Misa said she had not eaten lunch or breakfast since she heard on Friday that Yadav was upset. "My children are calling me and asking me to come back. But I want to meet him first and explain to him that the ticket is not an issue as far as I am concerned," she said.
Misa said Yadav, who still has two years left of his term in the Rajya Sabha, never indicated to the party that he wanted to contest the Lok Sabha elections, let alone from Pataliputra. "I …continued »