Written by
Leela Prasad
|
Updated: February 20, 2014 5:02:38 pm
Based on the data provided by the Press Information Bureau (citing Election Commission data), we at the Indian Express have visualized the Indian voter demographics.
Each placemark — when clicked on — provides information about the number of voters in the state and, also, the political party that formed the government in that state.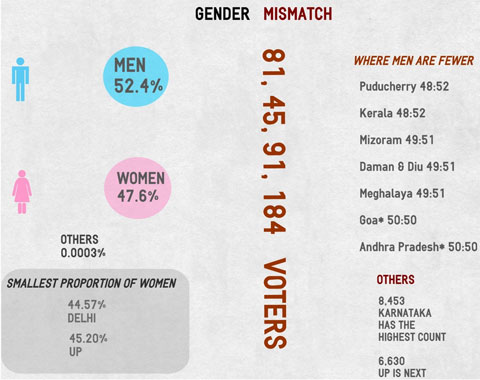 The infographic shows us a complete breakdown of the gender mismatch amongst Indian voters. The total number of male voters are 42.65 crore, and the total number of female voters are 47.6%. Other voters make up 28,341.
The smallest proportion of women voters are in our capital New Delhi, who account for 44.57% of the total number of voters.
States like Puducherry, Kerala, Mizoram.. have fewer men compared to the other Indian states.
For all the latest India News, download Indian Express App