Via Kashi: This election, Varanasi has been defined by its three contestants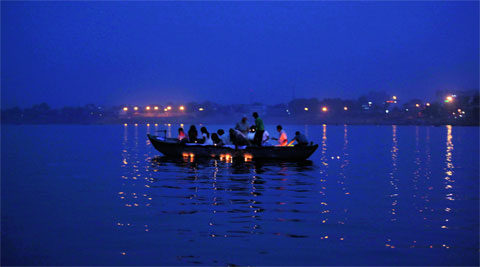 Kashi is the 'City of Light' and wisdom, in Varanasi are absolved sins, while Bena-ras incorporates a crucial element — ras, sweetness or joy. Express photo: Neeraj Priyadarshi
Varanasi is defined by its three cities. This election, it has been defined by its three contestants. Ashutosh Bhardwaj sifts through the weaves of the battle for Varanasi to find no running thread
The oldest living city in the world, one with a continuing literary tradition of over 2,000 years, Varanasi is essentially a triad. It comprises three cities with an almost coterminous geography — Varanasi, Benaras and Kashi. Other metropolises also carry several cities within, Delhi has seven, but with demarcated borders. However, along the Ganga, Varanasi, Benaras and Kashi flow into one another and yet stand apart. Kashi is the 'City of Light' and wisdom, in Varanasi are absolved sins, while Bena-ras (the Prakrit for Sanskritised Varanasi) incorporates a crucial element — ras, sweetness or joy.
It's fitting then that the most symbolic contest of this election, representing the three different ideas at the heart of it, is being fought in this triad. For Narendra Modi, the city is an unmistakable metaphor for his essential Hindu identity, Arvind Kejriwal sees himself as the agent of change and rebirth, while the Congress battle for survival is being spearheaded by a man who has taken the support of his elder brother's alleged murderer. It is easy to see why all their paths would lead to Varanasi.
The BJP's election office is the tallest multi-storey residential complex in the city, some 400-odd swanky flats all booked for its workers. Party workers to top BJP leaders, they are all here, from across the country, to work for Modi.
Such are the numbers, admits the BJP's Varanasi in-charge Ashok Dhawan, that many of them have little work. Senior BJP ministers from Chhattisgarh, for instance, idle away their time in five-star hotels or sightseeing.
The constituency has 1,600 booths and 32,000 BJP workers handling them, or 20 per booth. Since a booth has around 1,200 votes, each member has the task of ensuring just 60 voters reach the booth. "It's all meticulously planned. One member can easily bring 60," Dhawan explains.
The Aam Aadmi Party operates from an under-construction, 200-sq-yard home. Several doors and bathroom fittings are yet to be put in. The home has been donated by an 84-year-old retired Uttar Pradesh policeman, Surendra Narain Singh, who lives next door. He used to vote for the BJP earlier, but now backs AAP. "Kejriwal bhala aadmi hai, sanskaari hai (Kejriwal is a nice man, a cultured man)," says Singh.
There is talk of lakhs of volunteers, but AAP's official number is 5,000. Of these, 2,000 are locals, who will oversee booths on May 12 voting day.
A retired Allahabad University lecturer, Laiqa Bano, manages four …continued »