VHP compares Modi to Prithviraj Chauhan: He will restore Hindutva rule
Singhal said that the responsibility of Ram Temple has come on the new government.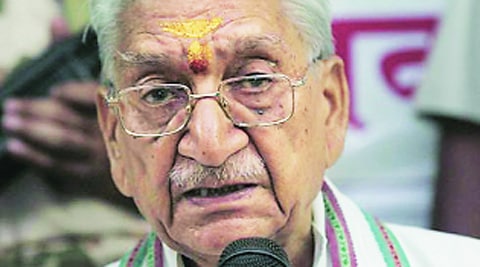 VHP leader Ashok Singhal
Comaparing Prime Minister-elect Narendra Modi to Rajput king Prithviraj Chauhan, Vishwa Hindu Parishad (VHP) leader Ashok Singhal on Saturday said the new government will help restore "Hindutva's lost rule" by facilitating the construction of a Ram Temple in Ayodhya, imposing a Common Civil Code and banning cow slaughter.
"There was a large section in the country that dreamt of the return of our lost rule. After Prithviraj (Chauhan), it is now that Hindutva has got the reins of Bharat," Singhal told a press conference here.
Saying that a Ram Temple in Ayodhya would be built soon under the Modi-led regime, he said, "Mazboot sarkar bani hai, mazbooti se banega  (It is a strong government, a strong temple will be built)… the responsibility of Ram Temple has come on the new government, and they should do it."
Listing the VHP's priority issues, he said, "Common Civil Code is not only a key to the fundamental unity and integrity of Bharat, but its implementation is also binding in the light of the Supreme Court's decree. Legal prohibition of horizontal religious conversions is a necessity to ensure peace and well-being of the society."