Varanasi showdown: BJP mounts all-out attack on EC over Narendra Modi rally
"Men in constitutional offices need to be bolder. Timid men can dwarf high offices," Jaitley said.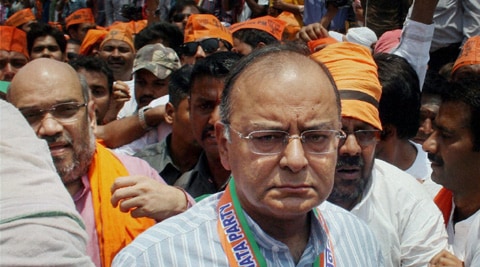 BJP leaders Amit Shah and Arun Jaitley during BJP's protest against Election Commission in Varanasi on Thursday. (Photo: PTI)
but the electoral officer of Varansai. We are going to meet EC officials. In the meeting, we would request the EC to remove him so that fair elections would be held there," he said.
Earlier Modi in his tweets sought to strike an emotional chord by offering "profound apologies" to river Ganga for not being able to perform 'arti'.
"My profound apologies to Ganga Maa for not being able to perform aarti today. Wish these people know that a mother's love is above politics," Modi tweeted.
District authorities in Varanasi have given permission for Ganga Pooja.
Modi was on Wednesday denied permission for holding a public meeting at a venue of its choice here following which the party announced protests while cancelling all his programmes.
The party demanded immediate removal of Varanasi Returning Officer Yadav who late in the night said he has given the nod to four of the five events for which BJP sought permission. The party, however, had rejected the gesture saying it came too late in the day.
(With PTI inputs)