Varanasi showdown: BJP mounts all-out attack on EC over Narendra Modi rally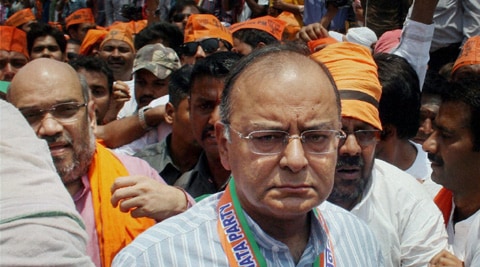 BJP leaders Amit Shah and Arun Jaitley during BJP's protest against Election Commission in Varanasi on Thursday. (Photo: PTI)
The Bharatiya Janata Party on Thursday mounted an all-out attack on the Election Commission over refusal of permission for holding a rally to Narendra Modi who questioned its neutrality while protests were held in Varanasi and Delhi demanding removal of the Returning Officer.
Top BJP leaders Arun Jaitley, Amit Shah and Ananth Kumar sat on a dharna outside the Banaras Hindu University protesting against the refusal and the alleged partisan approach of the returning officer Pranjal Yadav.
In Delhi, workers sought to protest outside the Election Commission but the Delhi Police stopped them a short distance away while imposing prohibitory orders in the area.
The assault on Election Commission was led by Modi, a candidate in Varanasi, who was denied permission to address a meeting in Beniabagh, a communally sensitive area chosen by the BJP.
"It is unfortunate that EC is not concerned about the institution's neutrality. That is why our 'karyakartas' (workers) have to embark on a Satyagraha," he said on Twitter.
Jaitley, who has been campaigning in Varanasi for the last few days, also hit out at the Commission, saying he cannot conceal his disappointment with the Election Commission.
"Men in constitutional offices need to be bolder. Timid men can dwarf high offices," he said.
Jaitley alleged that by condoning the Returning Officer's stand on 'No-Modi rally' in Varanasi city the Commission has used the security card to prevent the BJP Prime Ministerial candidate's right to campaign in his constituency.
"If you can't ensure security, don't hold the polls in the country. But if you do hold the polls please provide a level playing field," the BJP leader, who is camping in Varanasi, said.
He said the EC cannot deny the candidate the right to campaign. "Rahul Gandhi can have a road show in Varanasi but Narendra Modi cannot have a rally. The security card is selectively used," he said.
Even before the top BJP leaders arrived here for dharna, party workers and local leaders had begun protesting from early in the morning, disrupting traffic.
The protestors were shouting slogans for removal of District Magistrate Pranjal Yadav, who is also serving as returning officer for Lok Sabha polls scheduled for May 12.
As per schedule, Modi will arrive in a helicopter and drive through the city with his motorcade after addressing a rally in nearby Rohaniya area.
In Delhi, Section 144 of the CrPC restricting gathering of people was imposed ahead of the protest by BJP workers. Party activists were prevented from going towards the Election Commission.
A delegation of party leaders led by M Venkaiah Naidu and Ravi Shankar Prasad met officials of the Election Commission over the refusal of permission.
Naidu said that EC had called party leaders for a meeting over the issue.
"We have not come to protest here against EC, …continued »