Vaishali shows why Modi alone may not be enough for BJP in Bihar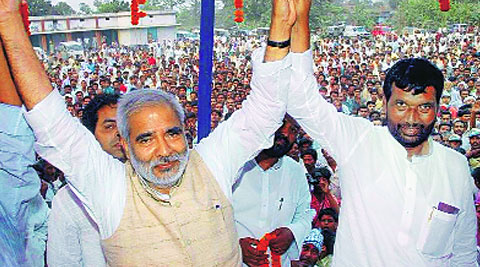 Raghuvansh Prasad Singh (RJD) witrh Ram Vilas Paswan.
There is a sense of looking through the eyepiece of a microscope in Vaishali, where Bihar's complex transactions of caste seem magnified. The main fight here is between three castes — Yadav, Rajput and Bhumihar — that do not see eye-to-eye and of which the first two have been coming together to defeat the third.
There are four main candidates in Vaishali which votes on May 12 — Raghuvansh Prasad Singh of the RJD, Rama Singh of the LJP which is in an alliance with the BJP, Vijay Sahni of the JD(U) and Independent candidate Annu Shukla. Conventional wisdom would say the RJD would get the Yadav votes while the BJP walks away with the Bhumihar and Rajput ones. However, RJD's Raghuvansh Singh, who is seeking a sixth consecutive term, is a Rajput and Annu Shukla, Lalganj MLA, is a Bhumihar.
"We want Modi sarkar, but we also want Raghuvansh babu," said Sekhar Singh of Dhanaiya in Paru block of Vaishali, going directly to the heart of the Rajput dilemma. RJD's Singh has won here since 1996 by bringing together the Yadavs and Rajputs. The constituency has always elected either Bhumihars or Rajputs, who, barring a few instances, refused to back the same candidate. "We Rajputs will not vote for a Bhumihar. If they want to, let them come and vote for us," said Chandrabhushan Singh of the same village, referring to the fact that the LJP's candidate is also a Rajput.
This is where the "Hindu unity" idea of the BJP breaks down. Vaishali is symptomatic of what has been seen all across Bihar — despite the BJP's projection of Narendra Modi, the local candidates and their castes matter. So while the Bhumihars in Muzaffarpur are all set to vote for Congress's Akhilesh Prasad Singh, a Bhumihar, in Vaishali, they favour Annu Shukla. Again, while the Mallaahs of Muzaffarpur will mostly vote BJP, in Vaishali, most of them will stick with the JD(U)'s Mallaah candidate. The Rajputs, out to defeat RJD's Rabri Devi in Chhapra, are rooting for Raghuvansh Prasad in Vaishali.
Candidates of major political parties in each constituency are almost always from the most populous castes. The BJP will need its candidates to deliver their caste votes while hoping Narendra Modi can bring over a good number of voters from the opposing candidates' castes.
At Chainpura in Paru block in Vaishali, Anil Kumar Singh, a Rajput, said his vote will be for Narendra Modi. "No one knows Rama Singh. We are voting for NaMo." However, Singh does not rule out the possibility of the Rajputs voting for Annu Shukla to keep out the RJD. "If Rama Singh is going to lose, we BJP cadres will vote for Annu Shukla, the Independent candidate. If she wins, she will be going over to the BJP, after all," he said. Annu is the wife of Vijay Kumar …continued »