Uttarakhand floods, rehab no poll issues: Harish Rawat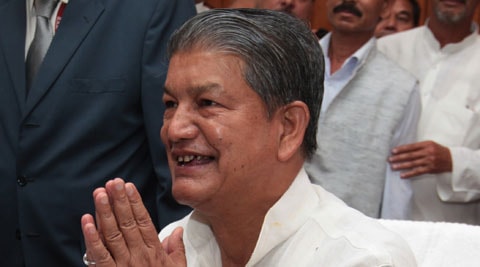 The chief minister, busy campaigning ahead of polling, ruled out any 'Modi wave' in the state.
The Uttarakhand floods may have cost former state Chief Minister Vijay Bahuguna his chair but his successor Harish Rawat feels that the issue will not impact the poll prospects of Congress as his government has taken a slew of measures to rehabilitate the victims.
Rawat also claims that BJP's Prime Ministerial candidate Narendra Modi may be a "crowd puller" but he will not be able to convert them into votes as local conditions suit Congress in Uttarakhand.
Rawat, who succeeded Bahuguna following his resignation after last year's floods, said the tragedy is no poll issue as the state government has taken many rehabilitation initiatives in the past two months.
"Rehabilitation after the Kedarnath tragedy is no issue as people are now looking ahead and Saket (Bahuguna's son) will win by a good margin in Tehri," said Rawat, who had won his first Lok Sabha election in 1980 by defeating BJP veteran Murli Manohar Joshi in Nainital.
All five seats in Uttarakhand, famous for its temples, will go to polls on May 7. There are nearly 59 lakh voters in the state.
The chief minister, busy campaigning ahead of polling, ruled out any 'Modi wave' in the state.
"I don't see any Modi wave in the hills. He is pulling crowds to his rallies but I doubt if he would be able to convert them into votes. Modi is a mere crowd puller. As far as Uttarakhand is concerned, you have to address local issues to connect with voters and here local conditions suit us. They (BJP) don't have the connect with the voters at the local level like we do," Rawat told PTI in an interview.
He also exuded confidence about winning all five seats. "We are in a very comfortable position in all the five seats (in Uttarakhand). I have addressed more than 50 rallies across the state and having seen the response of people, I am very confident about our win," he claimed.
Asked if there was any anti-incumbency factor in the state, he said that the scenario had changed since he took over. Rawat became the eighth chief minister of the state in February when Bahuguna resigned following criticism of his handling of rehabilitation efforts in the wake of the flash floods of catastrophic proportions.
"There is no anti-incumbency factor as we have taken many initiatives in the past two months like rehabilitation package and subsidy for self-employment," he said.
His wife Renuka is in the fray in Haridwar where she is pitted against former chief minister Ramesh Pokhriyal Nishank of BJP.
Rawat had won the Haridwar seat in 2009 but now, since he has shifted to state politics, his wife is contesting from the constituency.
"I am confident about her winning. People want to renew their connection with me and she is working very hard," he …continued »