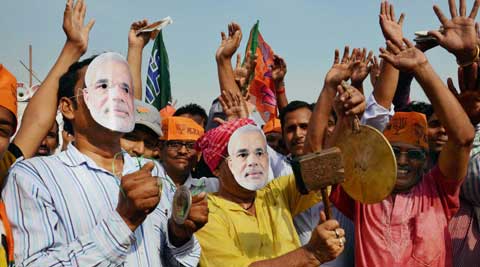 The BJP believes it has pocketed over 50 seats in Uttar Pradesh, including at least 15 from Poorvanchal. In the last two elections, the state gave it just 10 MPs. If the exit polls prove right tomorrow, it would establish a Modi impact on the largest state, besides confirming that the party successfully mobilised Hindus across castes.
It would decimate the Congress, and severely dent the fort of the SP and the BSP. Each of these three parties had 20 or more seats in 2009, and 50-plus for BJP would mean that the saffron camp regained its core upper caste and also successfully pulled the caste vote of Dalits and EBCs from these parties.
As western UP saw polarisation of Hindus for BJP following the Muzaffarnagar violence, it was also believed that Narendra Modi's candidature as the prime minister prompted Muslims to come together and support the strongest candidate to defeat the BJP. However, if the BJP crosses 50, it would imply that the Hindu polarisation was more complete than that of Muslims, who either remained divided among various parties or because of their numerical minority could not impact the result.
But if the BJP gets around 40 seats, it would mean that any Modi "wave" was weaker than claimed. If at least one party, say the BSP, is able to reach around 20 and match its previous tally, it would imply that Modi merely pulled votes from the Congress and the SP, a situation largely expected as both parties faced considerable anti-incumbency.
BJP's UP in-charge Amit Shah has already noted that the BSP would be the second largest party, hence a lot hinges on Mayawati's performance.
Several exit polls have also predicted a marginal difference in the vote shares of the two parties, though the seat counts are wider apart. If the vote differential fails to translate into the predicted large gap of seats, then the BSP will have dented the BJP's prospects.
In UP, hence, a lot depends on how Dalits voted. If a significant number of them went for Modi, then the Gujarat chief minister would accomplish a feat rare in recent decades. Dalits have been the most rigid vote in Uttar Pradesh, they vote in large numbers and are not known to vote on religious grounds. Their departure from Mayawati would mark a desire for development, which they believed Modi could bring.
For all the latest India News, download Indian Express App