UP's hardened caste lines
Assertive BJP looks at its best performance in years, but local caste equations can limit its strides.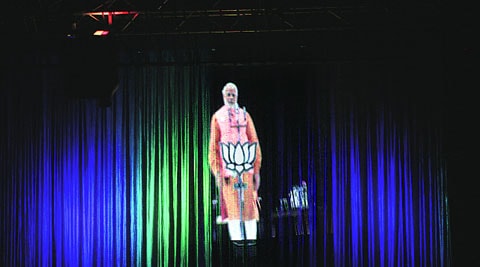 The 3D hologram appears in Lucknow; it has awed many in UP's smaller towns. Vishal Srivastav/file
A large, saffron container on a parked truck showcases a 3D screen on which appears a man doing the mike tests in English with a Gujarati accent before a crowd at Jamania town in Ghazipur constituency of Uttar Pradesh. The buildup is for a Narendra Modi address. An awed crowd, most of whom have never seen a 3D performance, watch previous Modi speeches playing out.
Snack trolleys do brisk business as the light fades out. This is Modi direct to home in relatively obscure parts of the heartland, striking a connect through technology — a ploy he has used in Gujarat. "One has to say Gujarat has progressed," says someone in the crowd as the 3D show becomes a symbol of what Modi calls the Gujarat model.
A few days earlier at his home in Lucknow, UP CM Akhilesh Yadav, just back from campaigning in Patan and Mehsana, reels out his initiatives to demolish the Gujarat model. "It's overstated. He speaks so much about the Sabarmati riverfront, I am making the biggest park in Asia. They talk about making Internet free, but what use is it without a computer? I have distributed 15 lakh free laptops. The BJP is like a good soap company, trying to sell a jhatpat economy."
In a Kurmi settlement in Ambedkarnagar, Mithilesh Kumari is the proud owner of one such laptop. Her younger brother is trying to get a hang of the device, which is often used to watch films. "Our family will vote for Akhilesh," she says, but her father is noncommittal. This village is tilting towards the BJP, owing to a communal incident.
Between Modi's 3D show and Akhilesh's laptops, there is a voter catchment of the upwardly mobile, which cuts across castes and is today clearly perched on the Modi bandwagon. In 2012, this lot had firmly gone with Akhilesh. "Akhilesh has been a disappointment. Rahul Gandhi too is like Akhilesh. We are not committing the same mistake again. So what if we are Yadavs, we will go for Modi, we need jobs and prosperity," says Sanjay Yadav, supported by young friends in a prosperous Yadav village in Ambedkarnagar.
In a Brahmin village just outside Ayodhya, the chorus for Modi is even louder. Ramesh Tiwari and his friends, all of whom depend on small farm holdings, say: "Enough is enough. We need change. This time it has to be the BJP and even the Dalits are supporting us."
In a busy Ayodhya market, youths Rajit Ram and Ashok chant the Modi slogan when asked about the political mood. But the near mocking tone is a giveaway; they later confide they are from the SCs. "You must understand, our vote can only be for Mayawati and the BSP."
If the 3D show, the aspirational Yadav youth, the communal logic that overshadows the laptop experience, and the aggressive Brahmin assertion show the extent of the Modi surge in UP, Rajit and Ashok reflect the limits. They force one to scratch below the surface.
3-way window
The Modi surge has resulted in a strong consolidation among forward castes, which by itself is numerically insufficient. Yet, the BJP can hope to mop up a healthy number of constituencies because its rise has turned the bulk of these seats into three-cornered contests — Faizabad, Ambedkarnagar, Lalganj, Chandauli, Macchlishahar, Bhadohi, Gonda, Shravasti. The BJP is in the reckoning in almost all of these and will be runner-up wherever it doesn't win.
It can hope to be first past the post in many seats by breaking a few of the "floating" caste groups not aligned to any of the major UP parties. The alliance with the Apna Dal, a party of the Patel (from the Kurmi caste) community, is one such effort. The community is strong in three or four constituencies around Varanasi and also in Faizabad, Bahraich and Shravasti. "We had voted SP last time, but will now vote BJP. Apna Dal is with BJP. In any case, a vote for SP or BSP is a vote for Congress. We want change," say Mahesh and Srinath Patel of Patelnagar village in Chandauli.
As they make this assertion, a BSP campaign convoy arrives with Udaylal Maurya, MLA of a neighbouring seat, and two village pradhans, both Patels. Young men meet them with angry protests against the local MLA, who is not part of the entourage. Then starts a conversion: first a bonding between the Patel pradhans and the group through common acquaintances, then an assertion from Tribhuvandas: "I have had a discussion with the MLA. We will have direct access to him and the MP if the BSP comes to power. Do you think these forwards will ever understand your problems?"
The BJP's problem is that it does not have a Thribhuvandas Patel working the local fault-lines. Be sure Tribhuvandas will make many visits to Patelnagar before the polling date.
Urban roar, rural rumour
The BJP is clearly the most visible party in urban centres and small towns. That's why Lucknow and Varanasi, over and above the fact that the two strongmen are contesting, would have gravitated towards the party.
Move to the towns and the BJP still occupies the popular space in Bhadohi, Mughalsarai and chaurahas across towns like Syed Raza, Gopiganj, Gossainganj. In the rural areas, the chorus begins to fade and caste preferences show up. "If the Yadav votes anywhere else, will he be counted? Nobody will believe we voted for the BJP," is a line repeated across Yadav villages, where most have limited links with urban centres.
With electricity available for not more than eight hours, the longest stretch of four hours past midnight, few can watch TV. So, the Modi story is essentially chauraha gossip that has reached village homes. "This time everybody is talking about Modi but we don't know much about him. Ultimately, we will do what our elders tell us," says Rakesh Yadav, a resident of Jaroi village in Bhadohi constituency.
Tickets & trouble
Issues around candidate selection can hurt the BJP in a close contest. In Faizabad, the party had created a Yadav-Muslim split in one assembly segment by fielding a Yadav. But Ramchandra Yadav was denied the LS ticket while the SP has fielded a Yadav, laying the grounds for a Yadav-Mulim consolidation and leaving the BJP's Lallu Singh to rely on upper-caste votes.
In Ambedkarnagar, the BJP's popular local leader Vinay Katiyar, a Kurmi, has been passed over for a Brahmin, while the SP has fielded a Kurmi.
In Ghazipur, BJP hopeful Arun Singh is contesting from the Pragatisheel Manav Samaj Party, a party of the EBC Bind. This large vote has moved out the BJP calculus, giving the SP the edge. And in Bhadohi, Virendra Singh 'Mast' has upstaged Bind aspirant Ram Rati Bind. The Binds are now waiting to hear from leaders of their caste. The latest was that Ram Rati was canvassing for the JD(U) candidate.
For all of this, the BJP is set to deliver its best performance in UP in nearly 15 years. The challenge, however, is the last week before polling in a seat. In cities, the BJP worker goes door to door. In rural parts, the party lacks the strength to move village to village. And even if that's happening, it's by the forward castes. And their assertiveness holds the threat of a potential backlash, in a throwback to years of caste dominance.