Under fire for editing Modi interview, Prasar CEO blames I&B Minister for blocking autonomy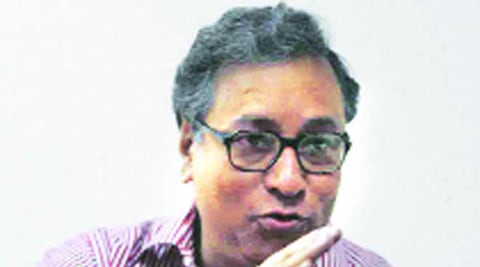 CEO of Prasar Bharti Jawhar Sircar. (Indian Express)
As public broadcaster Doordarshan came under fire for editing out key portions of an interview with Narendra Modi, Prasar Bharati CEO Jawhar Sircar sought to blame Information & Broadcasting Minister Manish Tewari for blocking "more operational autonomy" for the news division.
In a letter to members of the Prasar Bharati board, informing them of the circumstances that led to the controversy over Modi's interview, Sircar suggested that the best option for the news division was to make "all-out efforts" to seek "a balancing interview", so that the neutrality of the public broadcaster is not questioned.
Interviews must also be telecast "at the earliest juncture, with due publicity", and "without editing". "It would help clear the air and also attract TRP for DD, besides reinforcing our neutrality, and our respect for plurality of opinions," the Sircar said.  The CEO claimed he had given "strength" to the DG (News), Doordarshan, to telecast Modi's interview "even though there were concerns that a 'balancing interview' from the other side could not be procured, despite best attempts of DD News". Sircar was apparently referring to the public broadcaster's failure to get an interview with Congress vice-president Rahul Gandhi.
As for the "edited out portions" of Modi's interview, it  had been "left completely" to the editorial team of DD News, Sircar said. "It appears that while portions critical of Doordarshan were telecast, certain comments on other personalities were apparently edited". Portions of the interview that were not telecast included Modi's remarks about Priyanka Vadra, and his claims of friendship with Sonia Gandhi's political secretary Ahmed Patel, who has since issued a rebuttal.
Sircar said the Prasar board had, over the last two years, adopted several resolutions seeking more operational autonomy from the I&B ministry. "But it has failed to do so. In a way, therefore, MIB lost an opportunity to convince a young Minister to break this long traditional linkage between the Ministry and the News Division, which has continued unabated even after PB was born and assigned its distinct role in 1997. The mechanisms of appointment, transfers, career assessments and even punitive actions against senior officials of the News Division are bound to cast a 'shadow', in some form," Sircar said.
Another initiative of the board — to bring in "external professionals" — was successful to an extent, but "did not succeed" with regard to the posts of directors-generals of Doordarshan & AIR, Sircar said. "The Recruitment Rules still ensure that only government and quasi-government persons can occupy the post, which is pegged at approximately Rs 22 lakhs per annum against sharply higher market rates. I have tried my best to explain that these need to be reviewed, because times are changing; but I have not succeeded. If there had been some degree of fresh thinking in these two proposals, we may not have faced the type of public criticism that a single interview …continued »