Two yrs after town's first-ever riots, Kosi Kalan shadow hangs large over Mathura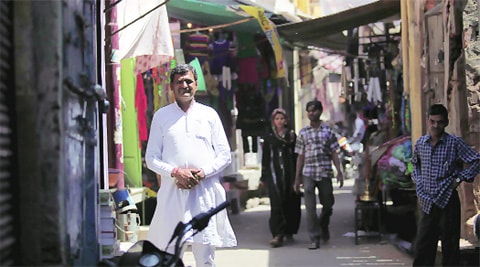 Bhagwat Prasad Ruhela, Kosi Kalan municipal council chairman, says "this is an important election for Hindus". Tashi Tobgyal
The Muzaffarnagar violence in September 2013 has left Uttar Pradesh plunged into its most polarised general elections in two decades. But before the clashes in western UP that left more than 70 dead, came smaller, more isolated sectarian skirmishes across the state.
From Pratapgarh and Faizabad in the east to Mathura, Bareilly, Bijnore, Allahabad, Bulandshahr, Meerut and Sambhal nearer to Muzaffarnagar, the riots broke out in mostly cities and towns that remained untouched even in the aftermath of the Babri Masjid demolition of 1992.
As per the Samajwadi Party government figures, the state witnessed 27 riots between March 2012, when it took over, and March 2013. From charges of molestation of women to minor road accidents, from the alleged desecration of holy books and places of worship to financial disputes, the sparks for these riots were minor and the violence defied reason.
Now, with families shattered, homes burnt to the ground and confidence in the police and administration at its lowest, these scarred parts of UP look set to vote on one issue alone — religion.
Kosi Kalan (Mathura constituency)
Candidates: Hema Malini (BJP); Jayant Choudhary (RLD); Chandan Singh (Samajwadi Party); Yogesh Dwivedi (BSP)
Polling: April 24
The fires in Kosi Kalan town were born of water. On June 1, 2012, a minor scuffle broke out between Hindus and Muslims, leading to nine hours of violence that that left four dead, dozens injured and shops and houses gutted. In the town that had never seen a Hindu-Muslim clash before, curfew had to be imposed for 21 days before a semblance of normalcy returned.
The rioting began after a shopkeeper relieved himself and washed his hands from a drum of water kept outside a masjid in Kosi Kalan just minutes before Friday prayers. An alarm was sounded and those attending the prayers rushed out to protest. Police sources say an altercation ensued and the shopkeeper was slapped. However, following apologies, Friday prayers resumed.
"The situation had been resolved and we returned to the masjid. But 20 minutes later, there was a mob waiting outside armed with sticks. Others began pelting stones, we hid inside rooms," a cleric at the masjid who preferred to remain anonymous recalls. He omits the part about the shopkeeper having been slapped.
This was at 2 pm. The men holed up inside the masjid were rescued only three hours later after a heavily armed police convoy dispersed the rioters.
By then, violence spread across the city, reaching its peak in Talab Shahi, where Hindu and Muslim housing colonies are located next to each other. Twin brothers Bhura and Kalua were thrown alive into a blazing fire, Salauddin Sheikh was shot dead as was Sonu Saini.
The clashes happened one day before local municipal council elections in Kosi Kalan. In the …continued »