Trips done, Jaswant waits alone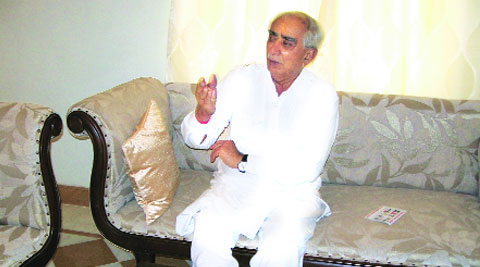 Jaswant Singh at a Barmer hotel, where he is spending his time reading and watching TV. ( Source: Express photo by Sweta Dutta )
Away from the political hullabaloo, former BJP leader Jaswant Singh, spends the last 48 hours of the countdown to poll results all by himself in Barmer, flipping through a copy of the New York Review of Books. He drove from his house in Jodhpur stopping by at his ancestral home in Jasol before checking into a hotel suite in Barmer town. An occasional visitor comes by. Jaswant does not turn anyone away.
Polling in Barmer was on April 17. Jaswant has since visited Darjeeling, from where he is the sitting MP, to thank the locals for their support. He also visited New Delhi to meet long-time friend L K Advani and former Prime Minister Atal Bihari Vajpayee to offer condolences following a bereavement in the family. These visits, his writing engagements and family time have kept Jaswant going for the past few weeks. Now with May 16 round the corner, he has taken his seat right in front of a giant television screen.
Not an iota of doubt on his mind about his own prospects in the constituency. "I started my political career with the fourth general elections. This is the 16th. In no election have I received the kind of support as this, totally voluntary and committed, by all constituents. The groundswell of support has been beyond my expectation or experience," Jaswant told The Indian Express in Barmer.
He also hopes his experience of handling key posts is utilised. "I have a certain length of experience — I will not call it depth but length. How will the country benefit from all the experience, is the question? One does not have to hold office. This wealth of experience God has so kindly given me … nobody can take away. Parties can expel me but they cannot denude me from what I hold. My hope and prayer is that the country shall use this experience, and I do not say it as a right or any kind of arrogance."
He maintains that there will be no going back to the BJP. "I do not belong to the BJP and so not a part of NDA. I have given an assurance to the constituents here and will not go back on my word."
Jaswant is dismissive of the exit polls. "I do not know which exit poll to go by, one gives the BJP 25 seats in Rajasthan, the other gives Congress 14 and BJP 10. I neither see BJP taking 25 nor Congress getting 14."
He refuses to sit down to do the mathematics that psephologists have been trying to crack. You tell him there are rumours doing the rounds in the town that he has already …continued »