To beat poll code, first Jaya movie with MGR returns, angers DMK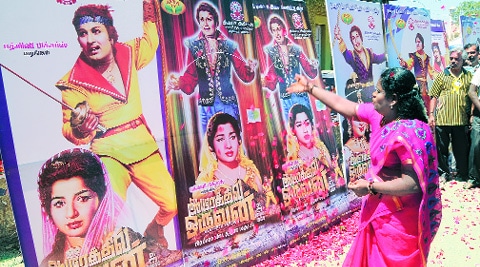 At the Devi Theatre in Chennai on Friday. (IE Photo: N Krishnamoorthi)
There was a small puja, complete with flowers and sweets. There were slogans and processions, and interviews to the media. The crowd was mostly men, with a few women and a family or two.
There have been many hit films before, and bigger ones since. But for the eager fans of matinee idol and late chief minister M G Ramachandran, who gathered Friday before Devi Theatre in Chennai, the film Ayirathil Oruvan is just what the name says: one in a thousand.
Directed by producer-director B R Panthulu, the film was originally released 49 years ago, way back in 1965, after MGR was established as the biggest box-office draw in Tamil Nadu but before he became an active politician. And this was the first film in which he was paired with the popular young actress who went on to rule the screen and state, AIADMK general secretary and present Chief Minister J Jayalalithaa.
"I first watched the film about 30 years ago. By then, it was a cult film in Tamil Nadu, what with the indirect message it contained, the dialogues that highlighted injustice in society and the plot that portrays the hero as a true leader of the oppressed," said L Muthuswamy, a clerk at a private company, who had taken a day's leave to watch the film once again. Born in the year the film was released, he said he had lost count the number of times he had watched the film.
The re-release of a film is not something new in Tamil Nadu where small theatres regularly run old hits that offer value for money, without the risk and money involved in securing new releases. In fact, a theatre in Chennai had run Ayirathil Oruvan just a few weeks ago. What is new about this release is that it has been digitally restored, the quality of the visuals enhanced and the audio raised to 5.1 channel from mono.
"My first attempt to digitise classic films began with Karnan, a mythological film which had Sivaji Ganesan in the title role. When we released it in 2012, it did very well, running for more than 25 days in 30 of the 72 theatres where it was released. One high class theatre ran it for 157 days. That is when I zeroed-in on Ayirathil Oruvan," said G Chockalingam of Dhivya Films, the company behind the digitised version.
Rival politicians are not amused to find a hit from the past that has the AIADMK founder and present leader as lead characters at a time when the state is headed to Lok Sabha polls. Though he died over two decades ago, MGR still has committed fans — and dedicated voters — which Jaya inherited.
All the viewers who had gathered outside the theatre Friday belonged to this group. They offered floral tributes to the film …continued »