This way to Delhi: From RSS pracharak to PM-designate, Narendra Modi has come a long way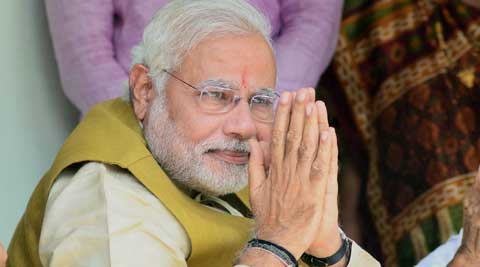 If Modi was indeed anguished during Gujarat riots, he bounced back fast. (PTI)
In August 2011, Narendra Modi had called up his friend in London and asked him, "So tell me, are the London riots still on?" "Yes," the young friend replied. The riots had broken out on August 5, 2011, and lasted nearly a week. "Then why am I being targeted," Modi is said to have asked this friend, who spoke to The Sunday Express on condition of anonymity.
If Modi was indeed anguished then, he bounced back fast. A month later, the Supreme Court said it would not monitor the case filed against him by Zakia Jafri, the widow of riot victim and former MP Ehsan Jafri, and Modi announced his Sadbhavana Mission, a series of fasts that were to be his bid to reach out to minorities. During his fast inside the airconditioned Gujarat University Convention Centre, as Narendra Modi posed for photographs with burqa-clad Muslim women, outside, BJP women members sat with foolscap notebooks, running a signature campaign for 'Modi as PM'.
A top BJP leader says, "Though whispers that Modi was in the prime ministerial race began in the corridors of the Chief Minister's Office as early as January 2008, a couple of weeks after Modi won his second term, it was only after the Supreme Court-appointed SIT gave him a clean chit in the riot cases when that it picked pace."
Modi then got down to revamping the machinery around him — largely independent of the BJP — and reinvented his own image from that of 'Hindu Hriday Samrat' to that of an investor-friendly CEO-CM of a 'progressive state', whose government was 'inclusive' and 'development-driven'.
In December 2011, Modi spotted Prashant Kishor, a 36-year-old former UN Mission Chief in Africa and roped him into his core team. Kishor, who is from Bihar, fit into Modi's need for a technocrat who would help him reach out to hostile political terrains such as Bihar. Kishor founded the NGO Citizens for Accountable Governance (CAG) and gave a youthful touch to the Modi campaign by bringing in an army of IIT and IIM graduates who quit plush MNC jobs to join the Modi backroom.
Apart from conventions to connect with the youth, CAG helped organise Chai pe Charcha programmes across the country to firmly found Modi's beginnings as a "tea vendor".
As part of the plan, Modi retained his trusted bureaucrat Kuniyil Kailashnathan (popularly called KK) after he retired last year by appointing him principal chief secretary in the CMO to look after the administrative affairs of the government. KK had been rewarded for playing a key part in Modi's image-building exercise. KK's role for more than seven years in the CMO had been to bring the government and industry together. He was the man in charge of the Vibrant Gujarat Global Investor Summit (VGGIS), Modi's flagship event that …continued »