Third Jharkhand legislator joins Trinamool Congress before formation of state unit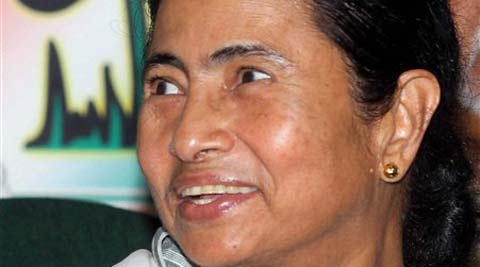 Trinamool Congress Supremo and West Bengal Chief Minister Mamata Banerjee at a press conference to announce candidates for Lok Sabha elections at her residence in Kolkata on Wednesday. (PTI Photo)
In its quest to emerge as the largest regional party in the 16th Lok Sabha, the All India Trinamool Congress is making an aggressive push into Jharkhand. By luring former Congress minister Chandra Shekhar Dubey on Sunday, it acquired its third legislator in the state even before the formation of a state unit.
This, on top of getting Shibu Soren's younger brother and JMM's Bokaro district president Lalu Soren on board.
Dubey, expelled from his cabinet by chief minister Hemant Soren on February 19th for personal attacks against him, joined the TMC in Kolkata on Sunday in the presence of general secretary Mukul Roy. He had waited to see if the Congress would give him the Dhanbad Lok Sabha ticket. With the INC's decision to give that seat to Ajay Dubey on Saturday, decks were cleared for 'Dadai' Dubey to go over to the TMC and contest from Dhanbad.
After Bandhu Tirkey and Chamra Linda — the party's candidates for Ranchi and Lohardaga respectively — joined on March 3rd, it is as if the floodgates opened. The names of almost every leader likely to be ignored by their respective parties in ticket distribution have been associated with the TMC — Stephen Marandi of the Congress and Paulus Surin of the JMM among them.
Some of these individuals are likely to stay with their parties, but the TMC does not deny it has been talking with them. So much so, political parties across the state are waiting with pregnant indignation for the second candidates' list of the TMC, expected on Sunday.
All this, from a party that was widely derided for a poorly-attended rally in Ranchi on January 11. The party's Rajya Sabha MP K.D. Singh, who has since resigned from his Jharkhand seat, was the main organiser. That day also marked his first official event in Jharkhand since being elected in 2010. Singh, chairman emeritus of the Chandigarh-based Alchemist group, won as a JMM candidate under controversial circumstances before going over to the TMC in a matter of months.
The TMC appointed a state convenor in Dilip Chatterjee on February 18. "The Ranchi rally was not very important. What mattered was a February 8th rally in Dhanbad, which was well attended," said Chatterjee. He also handles the Ranchi district office; TMC now has functioning units in Jamshedpur, Dhanbad and Bokaro districts. "We want to contest all 14 Lok Sabha seats and have finalised names for 5-6 of them. For the state assembly [elections, scheduled for 2015] too, we will have candidates for all seats," added Chatterjee.
Before TMC, Chatterjee was a general secretary of the JMM. "I …continued »