They would rather be Tibetan refugees than Indian voters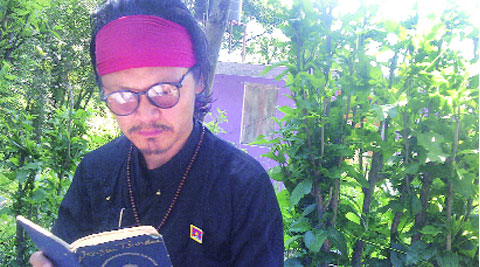 Tenzin Tsundue
The Election Commission has offered them voter IDs but that has evoked little enthusiasm in Tibetan settlements here, with few enrolling as voters and most preferring to retain their RCs, or registration certificates. The IDs are on offer to children of exiled Tibetans born in India between specified cutoffs, while RCs are given to Tibetans at the age of 16 if they have been living in India. They fear that if they opt for Indian voter IDs, they have to relinquish the RCs and hence their 'Tibetan-in-exile' identity.
It is the first time in 55 years that voting rights are being conferred on children of exiled Tibetans born in India within a specified cutoff. An earlier offer, four decades back, to grant citizenship had been turned down.
McLeodganj in Dharamsala has a large chunk of the 1.2 lakh Tibetans in exile in India.
"The EC order has caused a lot of confusion. One week after the announcement, the home ministry said Tibetans are foreign nationals who have sought refuge in India and cannot vote. Around 800 Tibetans took the forms but barely 100 submitted them to the district administration. They are yet to get their voter ID cards," said Tenzin Tsundue, a Tibetan, who is a Youth Congress leader.
Tsundue, born in 1973, who meets the ECI criterion, says, "It was very kind of the Indian government to initiate this move, but for us, going back to our motherland is more important. If we become Indian voters, we have to relinquish our RCs, which is why most of us have not opted for this. If we relinquish our RCs, we are no longer Tibetans and can never give up our moral and legal rights to Tibet."
"As far as Central Tibetan Administration (CTA) is concerned, we have not restrained any Tibetan from seeking Indian citizenship. But there is ambiguity in the instructions issued by the EC. To our understanding, if we become an Indian voter, we automatically become Indian citizens. It does not make it clear whether a Tibetan shall retain his RC after that. Many young Tibetans feel that becoming Indian citizens will hamper their struggle for Tibet," said Sonam Dorjee, Welfare Officer, CTA.
Karma Yeshi, a member of the Tibetan parliament-in-exile, said, "We are not in India to settle here. We are not immigrants but people forced into exile."
According to the district administration of Kangra that covers Dharamsala, barely 200 Tibetans have had their names added to the electoral rolls. "There was not much response from the community… The 200 who approached us have been issued voter IDs," said C Paul Rasu, Deputy Commissioner, Kangra.
Namgyal Dolker, whose name has been included, said, "Many Tibetans have taken citizenship of the United States and European nations etc. There had never been a noise. How is the Tibetan struggle under threat by seeking Indian citizenship? A piece of paper cannot change our faith in our nationality. We are Tibetans, even after …continued »