Updated: April 20, 2014 12:24:40 pm
By Gopu Mohan, Harsha Raj Gatty, Sukanya Shantha and Partha Sarathi Biswas
Two years ago, when Bharathi Kannamma decided to contest for the mayor's post from Madurai, her candidature was rejected on the grounds that her name in the electoral rolls was S Alaguraja. It is true that she was born a boy and was named Alaguraja, meaning "the beautiful prince". It is also true that she grew up to become a woman and adopted the name that suited her mind more than body.
Kannamma's political dreams have resurfaced this time, with the Election Commission of India formally recognising transgenders under the category "others".
"I know I won't win but we are looking at this election as a departure point for the community, an opportunity to integrate with the mainstream," says the 53-year-old, who is contesting the Lok Sabha elections from Madurai as an independent candidate.
Not too far away in Karnataka, is Bhavana Thimmappa, the sole transgender candidate in the state to contest the LS elections from Chitradurga constituency as an independent candidate. The 36-year-old found her identity as a successful entrepreneur running Satara Highway dhaba on National Highway 4, leading to Bangalore, for which she has employed several others like her.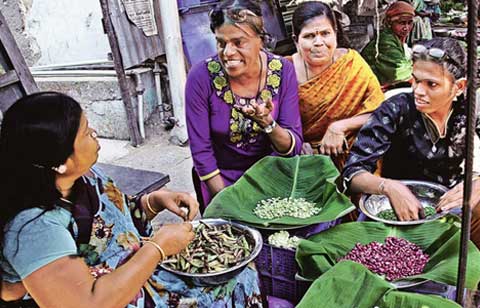 But the journey till here has not been easy for either of them. Transgenders in India often spend their lives on the fringes of the society, with social unacceptability forcing them into prostitution or begging.
Few like Kannamma, a trainer at the Tamil Nadu AIDS Control Society, a state-level police advocacy officer and a member of the district Lok Adalat in Madurai, have been able to break the shackles. Now on the campaign trail, Kannamma is aware of the impact she has on people.
"When I speak, people stop and listen," she says. Just like she looks different, she will also act differently from the run-of the-mill politicians, she assures them. "We have no family to whom we want to bring wealth. We understand what it is to live on the margins. It is time you choose someone who is not afraid to question the high and mighty," she tells the crowd.
Thimmappa was coerced to move out of her parents' home when she was 16 to save the "reputation" of her family. She would have continued as a beggar if it were not for the job opportunity at a highway dhaba, which she eventually bought. "Now that people know I am contesting the elections, they come to me. These are the same people who once pretended not to notice me," says Thimmappa.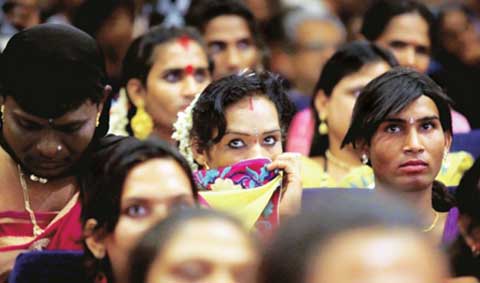 Nagpur-based transgender activist and an independent candidate Uttam Sapan Senapati, 32, decided to enter politics after all established parties "failed" her community. "Politically, no one considers us important. We were always treated as cheerleaders. I would regularly visit leaders and ask them to raise our issues. But it did not work," says Senapati, the only candidate in the "others" category in Maharashtra.
Her decision to enter the political fray is not only for the 5,000-odd transgenders of Nagpur. "Our issues are no different from other oppressed, underprivileged women of my constituency. We, too, live in the slums, with no toilet facilities, with no economic or social security. We, too, are struggling for employment, education and sanitation," says Senapati.
Transgender activist Kalki Subramanian from Tamil Nadu also toyed with the idea of contesting the elections, but rejected it. For one, the constituency where her name is included in the voters' list, Villupuram, is a reserved seat. Two, the idea, she says, is to put up a serious fight as the official candidate of a mainstream political party, rather than getting into a symbolic fight. Next elections, she says she will enter the ring.
"The plan is to use this election campaign as the launchpad for political mobilisation of the community across the state. By the next assembly election in 2016, there would be at least 25 transgender candidates out of the 234 seats in Tamil Nadu," says Kannamma.
Leading from the front is not everyone's cup of tea. For many, the recognition oftheir gender is enough. Three years ago, when Ranjit Sinha, director, Association of Transgender and Hijra of Bengal, West Bengal, found out that she could register herself as a transgender in the voters' list, there was not much time left to do so, yet she managed to get 80 transgenders registered. For Sinha, it was a small battle won. "We have a long way to go. But it felt nice to be recognised as legitimate voters of the country,"
she says.
At the time of speaking to us, Pune-based Santi, 27, said this is the first election when she plans to vote. "Earlier, I could not muster up the courage to go out and vote. The women refused to let us stand in their queue, while the men teased us and harassed us if we stood in theirs. But this time we have to vote as our community's safety is at stake," she says. Sitting in the modest quarters of the Samapathik Trust, the NGO for which she works in the red-light area of, Budhwar Peth, Santi shows her voting card, which identifies her as "male". "I had asked the officers to fill in the 'others' category while filling the form, but they did not listen to me," she says.
However, the registration of transgenders in the electoral list remains abysmally low. Estimated to be about 3 per cent of the population, only 32,518 have been registered nationally, while none of them have been registered in 14 states and four Union territories. The highest number of people to have registered is in Karnataka (11,042), followed by Uttar Pradesh (7,059), Andhra Pradesh (4,917), Bihar (2,111) and Orissa (1,206). In Maharashtra, the number is just 1,133, even though in Mumbai alone, there are a little over 1 lakh transgenders, according to informal estimates. In West Bengal, of 6.25 crore voters, only 500 have registered themselves as transgender voters. "This is laughable because our organisation itself has reached out to 25,000 transgender persons in West Bengal," says Sinha.
While EC officials blame the poor response to special camps organised by them for such registrations, support groups and transgender individuals point out various issues that prevent them from accepting that status. Kolkata-based social worker Amitava Sarkar feels that many transgender voters have chosen not to take advantage of this option simply because they fear the repercussions. "They fear they will lose their jobs or inheritance rights if they identify themselves openly," says Sinha.
Indeed, recognition by the EC is at best a start. The real battle lies, as all transgenders would validate, in changing the societal and official attitude. Ask Shakti, who today works as a outreach worker spreading awareness on HIV in her community in Mumbai. At 18, she fell in love with her childhood friend Jagannath Jangam. In 2002, when the villagers discovered the love affair, they were ostracised and their families excommunicated. The couple eloped to Mumbai, lived in the slums of Wadala for a year and did odd jobs. "One day, we received a call from the sarpanch's office, asking Jagannath to come and meet him. He thought this was an opportunity to make amends, and went to Solapur, assuring me that he will return in a week. He never did," says Shakti. Jangam's body was later found in a ditch, 40 km from Solapur. "I was picked up by the police, illegally detained for over a month, assaulted and sexually harassed. His family, too, thinks I was involved in their son's killing. If this were to happen to a regular couple, the media, rights activists and political parties would have come together and cried hoarse, but no one has time for us," says Shakti.
"We are invisible, almost non-existent. The police regularly harass us," says Sowmya, a transgender and a training officer with Humsafar Trust, an organisation based in Mumbai that promotes LGBT rights.
"It is tough for transgenders to produce documents backing their 'gender', the changed identities, and resident proof etc," says Pallav Pathankar, director (HIV programmes), Humsafar Trust. Bindumadhav Khire, president of Pune-based Samapathik trust, which works closely with gay men and transgenders, has raised these concerns with the EC through a formal complaint. "I had written asking if the voter's card can be used a legal identity. Unless we consider the transgender as a legal and respectful gender with all rights of a citizen, the exercise to include them under the 'others' category is futile," says Khire. Also, besides Congress and Aam Aadmi Party, no party has mentioned the LGBT community in their manifestos, says Pathankar. But this week's Supreme Court judgment, granting legal recognition to transgenders as the "third gender", as a class apart from males and females, might show the way.
Then, there are issues of job security and healthcare benefits. "Prostitution exposes us to diseases and we can't afford the treatment. Those of us who are educated should be given jobs," says Santi. To the list of their rights, one may add respect, recognition, gender-decriminalisation and equal opportunity.
With inputs from Premankur Biswas
For all the latest India News, download Indian Express App