The Splash: What keeps the Narendra Modi marketing machine ticking?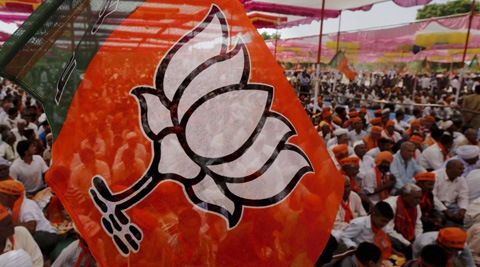 The giant marketing machine hasn't stopped since it was turned on last September, only shifting gears when needed. (Photo: PTI)
It's hard to miss the white lotus on the famed chhappan inch ki chaati as BJP prime ministerial candidate Narendra Modi addresses one rally after the other. The flower, strikingly different from the BJP's official saffron-and-green lotus, made its debut on the lapel of Modi's trademark half-sleeve kurtas on April 7, the day polling began for the 2014 general elections. "The white lotus is a replica of the lotus that appears on EVMs (electronic voting machines). It has a strategic purpose," says a top Modi aide.
The idea, he explains, is that constant exposure to the quiet yet prominent logo will help it seep into the subconscious of the voters and they will go for it instinctively when they stand in front of an EVM on election day. This is subliminal advertising, the science of influencing consumers at a subconscious level, a relatively new domain of marketing.
While the Modi campaign's use of social media has been much talked about (the 40,000 tweets and Facebook entries every day, Modi's exclusive YouTube channel and the live streaming of his public addresses), behind the scenes, it has rolled out an elaborate offline, or traditional, poll drive that has employed every trick in the marketing trade: subliminal advertising, catching 'em young, going glocal (a global brand learning local tricks), crowd-sourcing, analytics, primary and secondary market research, above- and below-the-line advertising, brand placement, content integration, activation and consumer engagement. These are conventional and contemporary marketing practices that brands across the world use to become the favoured choice of their consumers. Add to these the smart use of technology (3D holograms used in Modi's rallies or the use of DTH services to address voters in remote areas) and the result is that you can't shut out Modi this election season.
"In an era of information overload, you overload an already overloaded people. This isn't great marketing," says Congress leader and Information and Broadcasting Minister Manish Tiwari.
Modi's strategists, however, insist that this was what they intended. "Every touch point with voters was critical for us. We aimed to connect with them wherever they were, and hence the use of TV, print, radio, hoardings, Facebook, Twitter, YouTube, WhatsApp, DTH, cable TV services, on-ground and off-line people-connect initiatives," says the person leading Modi's marketing and communication brigade.
The giant marketing machine hasn't stopped since it was turned on last September, only shifting gears when needed. The use of diverse platforms ran the risk of sending out disparate messages but team Modi claims to have driven the communication in a manner that it has always been a unified message that came from all platforms at every stage.
When Modi began his campaign with attacks on the UPA, it was because his analytics, research and on-the-ground teams had gone through several sets of economic and …continued »