The other Joshi sidelined by the BJP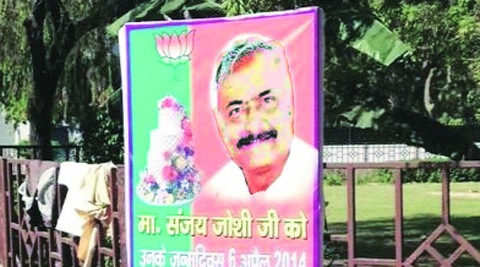 The sign outside the house is the only hint of who lives there. express
Minutes away from the BJP's national headquarters at 11, Ashoka Road, in Delhi, in a modest guest flat allotted to an outgoing Gujarat MP, lives Sanjay Joshi. But the man who went from being Narendra Modi's colleague to his bete noire couldn't be further away from his party's political firmament.
The only giveaway of Joshi's political affiliations is a small poster opposite his North Avenue flat. Put up by some supporters on his birthday, it features a lotus against a saffron background.
Though those close to Joshi claim he gets a steady stream of visitors from the BJP, there is little sign of political activity at the residence of the former national secretary (organisation) of the party. He refuses to meet the media or to give interviews and maintains a low profile, unlikely to ruffle many feathers.
Still, Joshi got another signal recently that the Modi-dominated BJP was in no hurry to find a place for him. Bhavnagar MP Rajendrasinh Rana who took in Joshi after he was asked to vacate the BJP headquarters in 2004, and in whose flat he has been living since 2009, was denied a ticket this time from the seat he had been winning continuously since 1996.
Joshi is said to meet senior party members now and then, but that is where his association with the BJP ends. Modi and he have not met or talked to each other in nearly 11 years.
According to those close to Joshi, he tried to re-connect with the BJP and RSS leadership last year hoping for a significant role ahead of the Lok Sabha elections but met with no success.
So the astute partyman once valued for his inputs now goes on personal "tours" to gauge the political scene. He travelled through Delhi before the Assembly elections in December 2013, and is learnt to have just come back from tours of Vidarbha and eastern Uttar Pradesh. UP is of particular interest to him. Joshi was in charge of the state in the last Assembly elections — till Modi forced him out — and, insiders say, he is keeping a close watch now that it is being handled by Modi confidant Amit Shah.
The one state Joshi rarely visits is Gujarat.
A Nagpur-born mechanical engineer and a full-time RSS volunteer, Joshi was made secretary (organisation) of the Gujarat BJP in 1988 — joining Modi who was made general secretary of the state unit the year before. He is credited with building the BJP in Gujarat, working in close association with Modi till 1995. Differences cropped up between them when Shankersinh Vaghela revolted, forcing a split in the Gujarat BJP and Modi's transfer out of Gujarat. Things, however, turned really ugly when a sleaze CD featuring Joshi popped up in 2005, forcing his removal from all BJP posts.
"While originally …continued »