The new New Delhi: Government talks begin, pressure on Rajnath Singh to join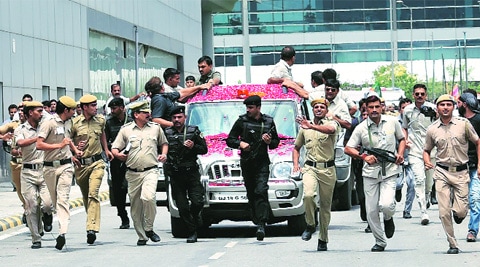 Security personnel escort Modi's vehicle on his arrival at IGI Airport in New Delhi on Saturday. Ravi Kanojia
Setting May 20 as the date for Narendra Modi's formal election as the leader of the BJP Parliamentary Party — ahead of taking oath as the nation's 16th Prime Minister — the BJP Parliamentary Board, the highest decision-making body of the party chaired by its chief Rajnath Singh, met here on Saturday, setting into motion the process of government formation.
Away from the cameras that captured the top brass of the party — including Modi, L K Advani, Murli Manohar Joshi, Sushma Swaraj and Arun Jaitley — exchanging greetings, one of the first issues on the table, sources said, was that of Rajnath Singh's role in the new dispensation.
Sources said Rajnath is being persuaded to join the Modi government despite his public statement — many times during the campaign — that he would like to stay party chief until his tenure ends in December 2015. Sources suggested the two had had an opportunity to discuss this issue on their way to and from Varanasi on Saturday. The two leaders were accompanied by party general secretary Amit Shah.
Party leaders suggested that the unprecedented scale of the BJP's — read Modi's — victory has silenced his critics for now, and diminished any leverage Advani, Joshi and Swaraj could have had in the new government. It is also expected to test the Modi-Rajnath relationship that has emerged as the crucial one in the post-Vajpayee-Advani era. In fact, many leaders are keenly watching how this relationship — between the party and the government — evolves.
This relationship has a chequered record. Rajnath had to face flak from party elders last year when he went ahead with the RSS project to isolate Advani in the party and anoint Modi as the PM candidate. While he faced the wrath of seniors like Sushma and Joshi in private, Advani went public in his attack when Rajnath announced Modi as BJP's chief campaigner at the party's national executive in Goa last June.
Advani not only stayed away from the executive — he had not skipped any such meeting since his Jana Sangh days — to mount pressure on Rajnath but later quit in protest.
"For some time I have been finding it difficult to reconcile either with the current functioning of the party, or the direction in which it is going. I no longer have the feeling that this is the same idealistic party created by Dr Mookerji, Pandit Deendayalji, Nanaji and Vajpayeeji whose sole concern was the country and its people. Most leaders of ours are now concerned just with their personal agendas," Advani wrote in his resignation letter on June 10 last year, a direct attack on Rajnath.
Undeterred, however, Rajnath put up a brave face as Modi watched from Gandhinagar. Modi, for the …continued »