The handpumps that UP govt couldn't install in time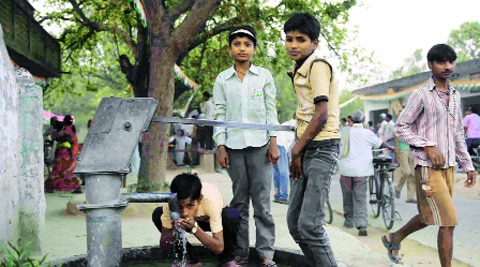 One of the handpumps by India Mark-II handpumps. Express
In Uttar Pradesh, a handpump can make or break elections. The ruling Samajwadi Party knew it only too well and went ahead with an ambitious plan to install over 20,000 India Mark-II handpumps across the state. But then, the general elections were announced, the model code of conduct came into force and the Samajwadi Party candidates, hoping to ride on the handpumps, were left stranded — only 20 per cent of these handpumps could be installed before the election process kicked in.
In February this year, the Samajwadi Party government sanctioned Rs 100 crore from the Chief Minister's Twarit Arthik Vikas Yojana to install 50 handpumps in each of the state's 403 assembly constituencies. Thus, over 20,000 handpumps were to be installed. Fifty per cent of the fund was released in February to district authorities and, sources say, they were informally asked to install these new handpumps on the recommendation of the Lok Sabha candidates of the ruling party. But the poll announcement came as a damper.
In Uttar Pradesh, where 90 per cent of the rural population depends on India Mark-II handpumps for potable water, the incumbency of MPs and MLAs depends on whether they manage to get these contraptions for their supporters.
A chief engineer of UP Jal Nigam, the nodal department in Lucknow for the installation of these handpumps, says, "Politics in UP is being run from the Jal Nigam. Such is the demand for India Mark-II pumps that requests come not only from villagers, but also from government offices and public schools." Each hand pump costs around Rs 50,000.
India Mark-IIs are popular in UP while most of the older handpump versions, such as Lal Bahadur (the handpump that finds a mention in Pipli Live), are obsolete and find no takers. Erratic or no electricity has also fuelled the demand for these handpumps. Jal Nigam sources say that even in the 200-odd villages that have the infrastructure for piped water, villagers rely on handpumps because without electricity, piped water cannot reach them.
Rajendra Agrawal, Lok Sabha MP from Meerut, says, "On an average, 20 per cent of my daily visitors come asking for India Mark-II handpumps." Atal Rai, Chief Development Officer (CDO) of Allahabad, says, "We get a flood of requests for handpumps, just like the applications for granting arms licences."
Sharda Pathak, who was Murli Manohar Joshi's local representative in Varanasi, says, "In Rohania, a rural assembly segment under the Varanasi Lok Sabha seat, we usually receive 5,000 applications a year, but we hardly manage to provide 100 handpumps a year."
There are 24.25 lakh handpumps in Uttar Pradesh, of which 61,000 were installed during 2012-13. On an average, 66 people are dependent on a single handpump, and there are nine handpumps installed in every settlement and 10 handpumps per square km area. Of the 24.25 lakh hand pumps, around 7 lakh …continued »